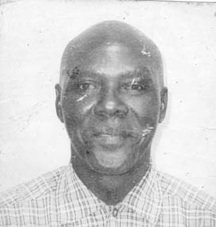 Jonathon Whylly
unknown - unknown
Last rites for Jonathon Whylly aged 57 of Rosetta Street, Palmdale will be held on Saturday at 11:00 A.M. at Southland Church of God, Soldier Road West. Officiating will be Bishop Goliath Burrows assisted by Rev. Ephraim Rolle and Rev. Dr. Rudolph Ferguson. Interment in Woodlawn Gardens, Soldier Road.
He is survived by 3 Daughters: Glendina, Shebra and Odell; Grandchildren: Tevin, Terhon, Tyeaka, Osbourne, Shanika,Tomeko and Tony; Sisters: Rev. Berthamae Deveaux and Pandora Whylly; Brothers: James Strachan and Thomas Whylly; Sisters-in-law: Oralee Whylly, Muriel Strachan and Denise Strachan, Irene, Verbilee, Eurella and Almetha Clarke;
Brothers-in-law: John Deveaux, Arlington Clarke and Gary Rolle; Nieces: Indiana, Maybeline, Minnie, Joelynn, Janique, Kendra, Dr. Shakera Carroll, Tanya; Nephews: Joel Jr., Judson, Ramoses Jr., Feron Deveaux, Dr. Gerrad Deveaux, Anwah, Kenton, Kelron, Conrad, Arlington, Gregory, Adrian and a host of other relatives and friends including The Deveaux Family,
The Whylly Family, The Hanna Family, The Ferguson Family, Brenda Allen and Family, Department of Agriculture(GRAC) family, Rosetta House Family and the Clarks Family
The body will repose at Kurtiss Memorial Mortuary, Robinson Road and Fifth Street on Friday from 11:00 A.M. until 5:30 P.M. and at the church on Saturday from 10:00 A.M. until service time.