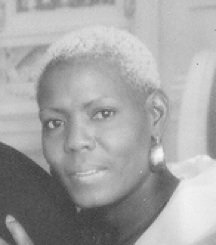 Edith Beatriece Davis
unknown - unknown
Funeral service for Edith Beatriece Davis, 54 yrs., a resident of Red Land Acres, will be held at Church of God Cathedral, Lily of the Valley Corner, on Saturday at 11:00 a.m. Officiating will be Rev. Dr. Moses A. Johnson & Rev. Hawey Cash, assisted by other Ministers. Interment follows in Lakeview Memorial Gardens, JFK Drive.
Left to cherish her memories are her sons: Jhoven, Ricardo & Hasting; daughters: Jackie & Shonel; grandchildren: Anwar, Rickanna, Jeada, Jayanna, Rhianna, Issac & Raquel; sisters: Judy, Deborah, Kym, Mary, Aretha Huyler of Abaco; brothers: Charles, Hasting & Arlington; uncle: Lincoln Davis & family; aunts: Agatha Musgrove, Patricia Jones, Carolyn Armbrister, Muriel Jackson & family of Coco Beach, Miami & Emma Davis Smith & family of Miami, Fla.; mother-in-law: Wilama Hinsey; brother-in-law: Maurice Arthur; sisters-in-law: Valencia Morley Davis, Laverne Hinsey & Glendina; nephews: Mauriko, Shedlock & Marcinko; nieces: Peggy, Shonika, Grier, Tamieka, Hastinique, Joann, Leanne & Dianne Rolle; cousins: Phillipe Morley, Jennymae Goodman, Helen Pinder, Rev. Constance Knight, Violet Missick, Donnamae Lewis, Debbie Livingston, Robert Musgrove, Jerry Stubbs, PC 2054 Jermaine Moultrie, Eumeeko, Neyoka, Shavise, Needie, Elvado,Tyrone, Navada, Cardinal, Lionel, Anton, Keyon, Anthony Morley, Rhonda Cash,Tonka, Petuna, Linda, Beatrice, Linda Davis Fisher, Sandra Davis Edgecombe, Kimberley Stuart, Basil, Kirkwood Davis Jr., Samuel Davis, Mario Davis,Kendal Davis, Shance Edgecombe, Renardo Edgecombe, Glenise, Lisa & Prescola Smith of USA; a host of other relatives & friends: Diane Evans & family, Fredricka, Derick Thompson & family, Gary Moss & family, Jillie Davis & family, Devon Lloyd & family, Bishop Moses & Cynthia Johnson & family, Church of God Cathedral, Cathy Baptiste & family, Teresa Gibson & family, Stephanie Mackey & family, Lisa Carey & family, Ivy Cornish & family, Francina Styles & family, Rosi Foulkes & family, Food Service Department & staff, Laverne King & family, Lanny Lopez & family, Mario Oliver & family, Sophia Joseph & family, Intertech Security Firm & staff, Keith Adderley & famiily, Deidre Perpall & family, Sanderia Williams Chantol & family, Andrew Jarrett, Terry & Tamara Munroe, Debbie Gomez, Parish Duncombe, Javolo Brice & family, Shantell King & family, Brierica Lamm & family, Denise Fountain & family, Marilynn Ferguson, Charmaine Pennerman & family, Concession Carts Department & staff, Otis & Lisa Gibson, Ian McKenzie & family, Mr.Basden & family, Michael & Stephanie Sweeting (Bams Auto Repair), Terran's Auto Repair, Debbie Fox & family, Donna Smith & family, Dialysis Unit, Female Medical 1 & 2, Ella Butler & family, Curlene Johnson & family, Shantell Rahming & family, Soldier Road Community, Sugar Kid Bowe family, Bain Town community, the Management & Staff of Her Majesty Prison, College of The Bahamas Lecturers & classmates.
Friends may pay their last respects at Demeritte's Funeral Home, Market Street, from 10-6:00 p.m. on Friday & on Saturday at the church from 10:00 a.m. until service time.