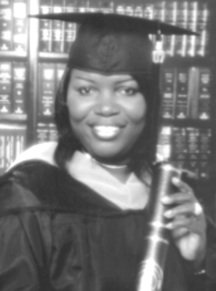 Gena Janette Butler
unknown - unknown
Funeral Service for Nursing Officer Gena Janette Butler, 47 years of South Beach Estates and formerly of Hatchet Bay, Eleuthera will be held on Saturday April 6th, 2013, 10:30 a.m. at St. Mark's Methodist Church, Hatchet Bay, Eleuthera. Pastor Dr. Richard Pinder will officiate. Interment will follow in Hatchet Bay Public Cemetery.
Left behind to mourn her passing is her Husband: Eugene Doriel Butler; Children: Doriel Butler Jr., James Butler and Dorothy Butler; Parents: Rev. Charles Delbert Bethel and Evang. Violet Bethel; Brothers and Families: Charles Jackie Bethel and Family, Quinton & Ingrid Bethel and Family and Mervin & Stacy Bethel and Family; Sisters and Families: Elsaida & Clement Penn Sr., Valerie & Robert Nortmann, Pastor Kimmerie King, Dixie & Eduourd Calixte, Yvonia & Randolph Kelly, Portia & Charles Algreen and Sonega & Frederick Neilly; Uncles: Dr. Earl Johnson & Paula Johnson & Family, Raymond Johnson & Family, Godfrey Bethel and Pat Johnson and Families; Aunts: Nutie Seymour, Minerva Delancy, Beatrice Rolle, Joan Pinder, Rosie " Jane" Samuda and Pauline Fraser; Best Friend: Lisa Stovel-Rolle; Nephews: Maurice Heintz, Clement Penn Jr., Denton Penn II, Alexander, Mark and Adam Nortmann, Quinton Bethel Jr., Joshua and Samuel Bethel, Wayne King, Wendall King Jr., Randolph Kelly Jr., Kristen Kelly, Charles Algreen Jr., Frederick Neilly Jr., John Bethel, Omish and Marichio Sears; Nieces: Catherine Allen, Andronia Ferguson, Margaret and Anastacia Nortmann, Krystal Newman, Rendicka Kelly, Kenva and Laquinta Bethel, Claudette, Candice Cece" and Chantelle Calixte, Znovia, Lakishna and Fredericka Neilly, Charlesea Algreen, Hannah, Esther and Ruth Bethel, Capri Isaacs, Breanna Algreen, Stacia, Berdicka and Merstacia Bethel; Cousins: Yvonia Albury, Inga Bethel, Abagail Craig, Anastacia Pevey, Paulette Johnson, Raymona Johnson, Tiffany Wilson, Eldira Johnson, Ethlyn Pinder, Goldie Pinder, Tamica Armbrister, Erlene Russell, Tamara Lightbourne, Don, Danny, Jerry and Ross Seymour, Ashton McQueen, Earlene, Tamara, Tammy and Paula Johnson, Benjamin "Wilky" Delancy, Ian Pinder, Earl Johnson Jr., Kendal, Clayton and Frankie Johnson, Jeffrey, Clayton, Timpy, Paul and Michael Fernander, Eddie, Patrick and Kevin Johnson and Tre Fraser; God Sisters: Nicole and Janica McCardy; God Brothers: Cecil and Ryan McCardy; God Daughter: Lakeisha Rolle; Grand Nieces: Jada Ferguson, Samia Heintz, Malaysia Heintz and Katlin Allen; Grand Nephews: Jason Ferguson Jr., Denton Penn II, Seth Newman, Jaquan Bethel and Joshua Gardiner; Extended Family & Community of Hatchet Bay: Hon. Philip Bethel & Family, Whitney Hepburn & Family, Dr. Myles Munroe & Bahamas Faith Ministries International, Delmita Turnquest & Family, Bahamas Nurses Union, Sir Arlington Butler & Family, Beryl Huyler & Family, Pearl Rahming & Family, Whithley McKinney & Family, Jacquelyn Richardson & Family, Patrick Barry & Family, Ettamae Moss & Family, Dept. of Civil Aviation, Hon. Glennis Hanna-Martin & Family – Minister of Transport and Aviation, Archie Nairn – Permanent Secretary, Attorney General Office, Capt. Patrick Rolle & Family – Dir. of Civil Aviation, the Late Alice Bethel & Family, the Late Janet Bethel & Family and the Late Lenora Rolle & Family.
Friends may pay their last respects at Bethel Brothers Morticians, #32 Nassau Street on Thursday from 12:00 noon to 5:00 p.m. and on Friday at the church from 7:00 p.m. until service time on Saturday.