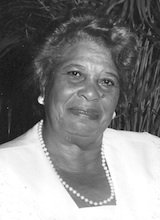 Mae Beulah Bonimy
unknown - unknown
Funeral Service for the late Mae Beulah Bonimy age 86 years old of Sea Breeze Estates and formerly of Mangrove Cay, Andros will be held on Saturday, April 6th, 2013 at 10:00am at St. Barnabas Anglican Church, Baillou Hill Road and Wulff Road. Officiating will be Bishop Gilbert Thompson assisted by Canon Basil Tynes, Father Roderick Bain and Rev. Fr. Collins Saunders. Interment will follow in Woodlawn Gardens, Soldier Road.
Left to mourn her passing are her five sons: Charles, Carol Jr., Lionel, David and Roger Bonimy; three daughters: Joan Christie, Dr. Madlyn Bonimy-Nzabatsinda and Angela Butler; one brother: Prince Wright; one sister-in-law: Mrs. Isabel Wright; one step-daughter: Judy Roberts; four sons-in-law: Allan Gibson, George Christie, Dr. Anthere Nzabatsinda and Louis Butler; three daughters-in-law: Venus, Ruthmae and Lucille Bonimy; twenty eight grand children: Gezel Farrington, Gavin Gibson, Charles Jr. Devaughn, Stefan and Dr. Christian Bonimy, Chakita Archer, Dr. Devonnia Lee, Anton, Lionel Jr., Mc Quenton, Leantoinette, Lamarr, Lionelle, Lemarque Bonimy, Lezelye Sands, Vanessa Campbell, Carolyn Ariscar, David Jr., Danika, Dakera, Brendon and Ryan Bonimy, Georgette Darling, Jovon and Javardo Christie, Antonia Ferguson and Alexander Butler; twenty great grandchildren: Latonya, Lateisha, Anthony Jr. Gibson, Tryone, Katia, Dillon, Nathan, Paloma, Anthony Jr. Farrington, Mark, Aaron, Donnevin, Laell, Liam, Geordan, Kailyn, Aalaythia, Layfiatte Jr., Azurnigue and Jermaine; One great-great grandchild: Denahj Gibson; Ten nephews: Arthur, Earl, Alan, Trevor, Corey, Raymond, Ednol Wright, Ray Minus, Livingston Minus and Wilbert Bonimy; Nine nieces: Mrs. Debra Outten, Mrs. Ruth M. Wong J.P., Beverley Collins, Lerlene, Mrs. Rosalie Minus, Mrs. Myrtle Minus, Joycelyn, Melanie and Prescola; Other family and friends: Mr. James Pennerman, Mrs. Terry Benjamin, Mrs. Bertha Pratt, Ms. Sylvia Poitier, Mr. Alkmund Bonimy, Anthony Farrington, Dremeco Archer, David Lee, Kelly Bonimy, Don Darling; Jennifer Cleare, Jerry Butler, Mrs. Emily Lockhart, Mrs. Beryl Huyler, Candice Diah, Victoria Cargill, Ms. Marie Evans, Dr. Bria Roberts, Ms. Stephanie Sargent, Pauline Davis, Charlene Miller, Denise St. George, Nelson Noel, Christine Baker and Family, Linda Gibson and Family, the Bonimy Family, the Outten Family, Leopole, Kendal & the Wright family, Phillip , Durand & the Minus Family, the Bain family, the Rolle family, the Bethel family, Olive Mackey and Family, Dr. Eugene Gray & Family, the Greene Family, the Butler family, Anthony Ferguson & Family, the Pennerman family, the Farrington family, the Christie Family, the Gibson Family, the Straw Vendors Association, Dr. Chin, Dr. Ageeb, Ms. Nora Cartwright, McQuinella Cartwright , Delshia Hendricks, Florence McDonald, Myers Group of Compaines, Credit Suisse Trust Ltd, St. Barnabas family and many, many others too numerous to mention.
Viewing will be held in the Serenity Suite at Restview Memorial Mortuary and Crematorium Ltd., Robinson and Solider Road on Friday from 10:00am to 6:00pm and at the church on Saturday from 8:30am until service time.