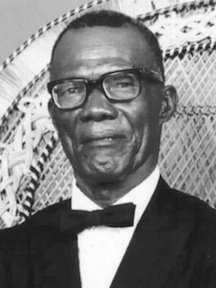 Emperor McKenzie
unknown - unknown
Funeral Service for Reverend Emperor McKenzie, age 95 years a resident of Long Bay, South Andros, will be held on Saturday April 13th, 2013 12:00noon at Zion South Beach Baptist Church, Zion Boulevard Officiating will be Chief Celebrant Bishop B. Weneth Davis OBE assisted by Rev. Harry Davis .Interment will be made in Lakeview Memorial Gardens & Mausoleums, John F. Kennedy Drive.
He was pre-deceased by his beloved Wife: Jestina "Zelles" McKenzie; Four (4) Brothers: Ronald, Prince, Leonard, and Freddie McKenzie; Five (5) Sisters: Eva, Evelyn, Florence, Laura, and Albertha; Daughters-in-law: Rose and Etoy McKenzie.
He is survived by Five (5) Sons: Ignatius McKenzie Sr., Bradley, Dudley, Emperor McKenzie Jr. and James Williams-McKenzie of Nashville, Tennessee; One (1) Adopted Daughter: Janetta Saunders-Culmer of Miami, Florida; One (1) Brother: Ernest McKenzie;Three (3) Daughters-in-law: Sylvia, Marina of Miami, Florida, Dollymae McKenzie, and Cindy Williams-McKenzie of Nashville, Tennessee; One (1) Son-in-Law: Errol Culmer of Miami, Florida; Grandchildren: Roderick, Helena, Burton, Ruthermae, Lorraine, Erin, Jackie, Vanessa, Vashinella, Vanillin, Arlene, Ignatius Jr., Alton, Mornette, Jennifer, Margaret, Conrad, Charlene, Ian, Charles, Jessica, Jessie, Conwill, Tina, T'ana, Tadesee, Abbygail, Anya, Gareth, Rev. Bradford, Andrew, Samantha, Arnold, Darnelle, Sintina, Nacara, Dylon, Carno, and Magalean; Numerous Great-Grandchildren and Great-Great Grandchildren; Five (5 ) Sisters-in-law: Veronica, Cecilia, Cleora, and Louise (Lovely) McKenzie, and Lilian Williams; Caregiver: Idean Finlay; Numerous Nieces and Nephews including: Antrim & Eulamae McKenzie, Idena Thurston, Arezetta Rolle-Cook, John & Irvin Saunders, Oswald, Valderine and Earlie Forbes, Gloria Rolle, Angela Rolle, Fred and Leslie McKenzie, Ernestine Fernander, Bernadette Sears, Patricia Adderly, Patrice Roberts, Basil, Alfonzo, Willimina McKenzie, Nezlene Railey, Annie McKenzie, Obediah and Blossom Rolle, Sandra McKinney, Joyselyn Mackey, Anthony and Tyrone McKenzie; Other Relatives and Friends including: The Morris, Forbes, Williams, and Flowers Families of Driggs Hill, and Long Bay, Andros, The Sturrup, Kelly, and Gibson Families, including Rev. Dr. William George Kelly, Elder Amos & Olga Flowers, Rev. Stanley Forbes & Family, Ezrina Forbes & Family, Elder Joseph & Leonie Morris of Deep Creek, Andros, Rev. Henry & Yvonne Morris of Freeport, Grand Bahama, Samuel Williams & Family, Sister Leitha Davis, Rev. James Pratt J.P., Rev. Davis & Family of Mangrove Cay, Andros, Dame Marguerita Pindling, Rev. Dr. Alonso Hinsey & Family, Marselina Rolle & Family of Johnson Bay, Andros, Charles Pratt of Freeport, Grand Bahama, Bishop Ross & Wennith Davis, Mr. Lambert Ferguson & Family, Jeffery Ferguson & Family, , Bishop Roy Davis & Family, South Andros M.P. Picewell Forbes, Christopher Stewart & Family, Winnie, Dorothy, Keva, Mount Moriah Church Family, the Doctor and Nurse of South Andros, CJ Foods, and the communities of Congo Town, Driggs Hill and The Bluff South Andros and others too numerous to mention.
Relatives and friends may pay their respects at Cedar Crest Funeral Home & Crematorium, Robinson Road and First Street on Friday from 12:00 noon to 6:00p.m. and on Saturday at the church from 10:30a.m. until service time.