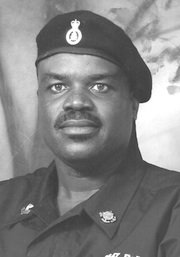 Kevin Livingston Rolle
unknown - unknown

DEATH NOTICE
Police Sgt. 2647 Kevin Livingston Rolle (Pastor) age 46 years old of Black Point, Exuma died at Doctor's Hospital on Saturday April 6th, 2013.
He is survived by his wife: Esther Rolle; sons: Kato and Kenaz Rolle; daughter: Kaynisha Rolle; father: Deacon Hartman Rolle; brothers: Brensil , Pastor Glen P. Rolle, Rev. Henry Rolle, Sgt.460 Dwayne Rolle, Leading Seaman Dan Rolle and Raymond Andrews; sisters: Nurse Geroldine Rolle, Nurse Shelia Ingraham, Sharon Taylor, Priscilla McIntosh and Nurse Selina D. Bain; mother-in-law: Pearline Ingraham; 7 uncles; 10 aunts; 11 nephews; 21 nieces and a host of other relatives and friends too numerous to mention.
Funeral Announcements will be announced at a later date.