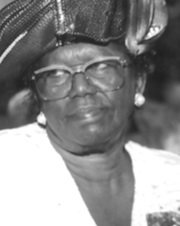 Muriel ""Mar" " Emily Forbes
unknown - unknown
Funeral Service for the Late Ms. Muriel Emily "Mar" Forbes, 86 years of Mt. Pleasant Village and formerly of Fox Town, Abaco, will be held on Saturday April 13, 2013, 11:00 a.m. at Cathedral of Praise, Church of God, Mt. Pleasant Village. Bishop Philemon Wilson assisted by Rev. Stanford Rolle Sr. Interment will follow in Lakeview Memorial Gardens, J.F.K. Drive & Gladstone Road.
Left to cherish her memories are her Children and their spouses: Alfred, Campbell, Wellington & Deloris, Oral, Gorden & Earnestine, Perry & Hester Forbes, Dorothy & Don Major, Yolanda & Daniel Curry; Grandchildren: Kira & Marcus Brooks, Ashna, Alex & Erica, Ashton, Lavaughn, Joshua-Leonard, Joel, Oral Jr., Denzel, Joshua-Rutinell, Kassia, Tyra, Trevor and Schamal Forbes, Quincy & Marilyn Jones, Dr. Don, Deandra & Layla (family pet) Major, Darius & Dania Curry; Great Grandchildren: Karrington, Zyan, Rashayne, Schamal Jr., Sania, Tarzmyn, Dwainya, and Jonathon; Nieces & Nephews: Julius & Pat, Eloise & Clarence, Edward & Patrice, Dianne, Stanley, Don, Tim, Romeo, Wesley, Teon, Sheila & Shirley, Victor & Eliza, Wandalee, Debbie, Ursula, Ruth (Tiny), Audrey, and Rutinell; Sister-In-Law: Cetal Curry; Godchildren: Jerrilene, Patricia, Birdie, Harry, and Darren. Other relatives and friends: Millie McIntosh, Julia Wells, Lillian Parker, Michael & Lillian, Richard, Sam, and Albert Bootle, Clifford & Evelyn Henfield, Rafaletta McIntosh, Cuthbert Hall, Lavonda and Margaret, Virgie (Spring City), George & Sonia and the entire Little Abaco Community Hatley & Olive Forbes and families, George & Ester Hall & Family, Heneritta Walcott, Roscoe Sturrup, Nelly Cooper and Family, Mr. and Mrs. Newry, Mr. Roy, Queenie Rose, Livingston Dames and Family, Father BJ Smith, Mr. Allan (Mason Lodge), Marie & Beth and the entire Mt. Pleasant Village Community, Bishop John Davis & Family, Bishop Samuel Greene & Family, Bishop Philemon Wilson & Family, Pastor Stanford Rolle & Family, the Cathedral of Praise Church of God Family, Dr. Dean Tsertopoulos and Staff, and the Princess Margaret Hospital Staff, and Lyford Cay Club.
Friends may pay their last respects at Bethel Brothers Morticians, #32 Nassau Street on Friday from 10:00 a.m. to 6:00 p.m. and on Saturday at the church from 10:00 a.m. until service time.