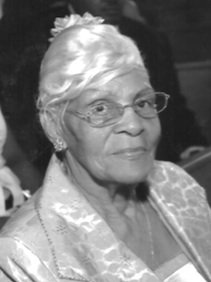 Ophelia "Louise" Major
unknown - unknown
Funeral Service for the Late Ms. Ophelia (Louise) Major, 83 years of #21 Spring Terrace, Gleniston Gardens and formerly of Clarence Town, Long Island, will be held on Saturday April 13th, 2013, 10:45 a.m. at Our Lady's Catholic Church, Deveaux Street. Fr. Alain-Mary Laverne assisted by Monsignor John Johnson will officiate. Interment will follow in Lakeview Memorial Gardens, J.F.K. Drive & Gladstone Road.
Ophelia was predeceased by her son: Harry Cleare; and her grandson: Kahlil Holmes.
She will be cherished and forever remembered by her Children: Pat Walkes (adopted son) Judy Smith, Mary Thompson, Eugene Poitier and Theresa Sweeting; One (1) Sister: Marion Dennison of Lancaster, Pennsylvania; Grandchildren: Donavan Thompson, Geanno Beneby, Natasha Stuart, Jurymchieo Cleare, Inga Poitier, Shandia Beneby-Frazier, Samara Johnson, Jahmarro and Valentino Allen, McGyver Rahming, Donna, Neil and Ian Thompson; Great Grandchildren: Neya and Leyah Cleare of Fort Lauderdale, Florida, Akiel Holmes, Aaliyah Holmes, Antoine Neilly, Nicholas Knowles, Caila Sands, Jodi Frazier, Anari Smith, Jahmeico Allen, Kahlil Holmes Jr., Geanna Beneby, and Makenna Johnson; Nieces and Nephews: Hensel Smith of Savannah Georgia, Belinda Lowe of West Palm Beach Florida and Joel Dennison of Lancaster Pennsylvania. In-Laws and Grand In-laws: Dianne Walkes, James Sweeting, Darryl Poitier, Yonarda Beneby, Owen Johnson, Shavonne, Celina and Mika Thompson; Numerous Family and Friends Including: Mrs. Gwendolyn King (life long friend), Millicent and Patricia Deane, Mr. and Mrs. Bobby Glinton and family, Dr. Tyrone "Butch" Bartlett and family, Hon. Fredrick A. Mitchell, MP, Mrs. Flora Woodside and family, Tanyetta, Shennel, Brittany and Dericka Walkes, Theresa and Roslyn Mortimer, Ms. Anick Cartwright, Mrs. Blanche Sweeting and family, Ms. Coreen Davis, Ms. Dianne Ferguson, Mrs. Delores Nottage and family, Mrs. Whitlyn Gilbert and family, Ms. Doreen Fernander, Mrs. Pat Moxey and family, Mrs. Althea Ferguson and family, Mrs. Euphemia Poitier and family, Mr. Reginald Major of Harbour Island, Mrs. Mable Newton, Mrs. Rosalie Neymour and family, Ms. Henrietta Miller, Phillip and Norward Beneby and family, Mrs. Linda Outten, Mrs. Barbara Reckley, Mrs. Susan Smith, Jerome and Bursell Woods, Mrs. Delores Edwards and family, Mrs. Marsha Knowles and family, Mr. Bradley Smith and family, Msgr. John Johnson, Fathers Michael Kelly and David Cooper, Ms. Sandra Longley, Mrs. Rosalie Foulkes, Mrs. Beatrice Strachan and family, Pastor Rickeno Moncur, Word of Life Kingdom Ministries Church Family, Mr. Ashley Edwards, Ms. Lucille Major, Mrs. Paulette Smith, Overseer Helen McPhee, Our Lady's Church Family and Ladies Auxiliary; and many other relatives and friends.
Friends may pay their last respects at Bethel Brothers Morticians, #32 Nassau Street on Friday from 10:00 a.m. at 6:00 p.m. and on Saturday at the Church from 9:45 a.m. until service time.