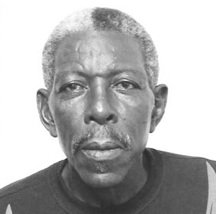 Arnold "Harry-Hippie" McKinney
unknown - unknown
Funeral Service for the late Mr. Arnold (Harry-Hippie) McKinney age 58years of Montague Avenue will be held on Saturday 13th April, 2013 at The Church of God of Prophecy, Palm Tree Avenue & 2nd Street Coconut Grove at 11:00a.m.Officiating Bishop Anthony T. Roker, Senior Pastor Assisted by Minister Gersham Pratt, Cremation will follow.
Arnold 'Hippy' 'Harry's memories will live on in the hearts of :
His Mother: Sylvia Mckinney Deleveaux
His Daughter: Unell Mckinney
His Angel: Attorney Sharon Rose Hutchinson
His Chief: Jerry Hutchinson
His Grandkids: Tynasia Milfort & Kayden Johnson
His Sisters: Karen Rolle (Willie); Lilymae Johnson, Ruthmae Phylis Rose, Attorney Debra Rose Munnings (Wendell) & Priscilla Rose of Houston Texas;
His Brothers: Roosevelt, Craig, Anthony & Reggie Deleveaux, Attorney Jacob Rose of West Palm Beach Florida, Maxwell, Cecil & Attorney Lynden Rose (Marilyn) of Houston Texas, Ednal,Philip (Monica) & Clement Rose;
His Numerous Nieces including: Phylicia Rose, Bianca Rose of Houston Texas, Miaeda Hutchinson of Sugarland Texas, Clarissa Rose of Miami Florida,Tanasha & Deandra Deleveaux, Maria Rolle, Rina, Terrell & Suzette Mckenzie, Latera & Latara Pinder ; His Numerous Nephews including: Cyshae Strachan, Bjornrae Kemp & Kellen Hutchinson of Sugarland Texas, Archie Rose of Salt Lake City Utah, Echo, Rennie, D'Soraji & Craig Jr. Deleveaux, Kemuel Johnson, Jamal Mckenzie & Gregory Tamu King; Cousins including: Michael Mckenzie,Vincent, Don, Charles & Lavania Mckinney, Thelma Storr, Sherlyn Sawyer. His Aunts: Curlane Armbrister Dorsett & Alma Kaplan of New York, Rose Culmer;
His Other Relatives and Friends including: Ethelyn Paul & Family, Isaac & Louise Lightbourne, Cornelius, Barnabas & Nicodemus Johnson, Attorney Yvette McCartney, Connie Smith & Family, Henry Moxey & Family, Hattie Moxey, Peterson Paul, John Cox, Jarvis Pratt, James "Tones" and Donna Q Sweeting, Keevan Darville, Mario Roberts, Mr. & Mrs 'Skeeter' Dames & Family, Rudolph Smith (Squeeze), Constance Brice, Theresa Kemp & family, Josefa Silva, Lada, Fenelia, Dr. Joyous Pickstock & Family, Dr. Cyprian Strachan & family, Judith Smith & Family, Renae Mckay & Family, Sharon Symonette Webster & Family, Nisha Major, Gia Singh, Tisca Pratt, Brendan Davis, Devon Thompson & Lillis Sweeting, Rudy Reckley, Dr. Robert Gibson, Erskine & Lulamae Gray, Marjorie Stuart & Family, Dawn Knowles, Mervin & Violet Wright of Freeport, Grand Bahama, Camille Campbell & Family, Rev. & Mrs. Julian Russell of Dallas, Texas, Naomi Deveaux, Arthur & Delores Jones of Grand Bahama, Beverly J.T. Taylor, Cheryl & Brad Lightbourne, Janet Lundy & Family, Nettica Culmer Daxon & Family, Trudy Deal & Family, Reverend R. E. Cooper, Jr. & Mission Baptist Church family, Dawn Knowles, Pat Dillard of New Jersey, Reverend James & Giselle Neilly & Global Village Methodist Church Family, Bishop Anthony Roker & Family, Mrs. Loraina Cox & Family, Mrs. Mavis Dean & Family, Mrs. Jesse Darville & Family, Mr. & Mrs. Leroy Glass, Donald & Daisy Glass, Rona Gibson, Renette Lefranc & Bennie, Debbie Wilkinson, Parrish Duncombe, Nathalie Coleby, Patsy Neymour, The Rose Law Firm, Arlington Butler Law Chambers, & a host of other relatives & friends.
Viewing will be held in the Rose Suite at Evergreen Mortuary located Collins Avenue & 5th Terrace on Friday from 10:00a.m - 6:00p.m and again at the church from 9:00a.m until service time.