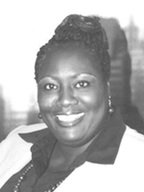 Ceital Duncombe
unknown - unknown
Last rites for Ceital Duncombe aged 47 of George Town Exuma will be held on Saturday
at 10:00 A.M. at. St. John's Union Baptist Church, George Town, Exuma. Officiating will be
Rev. Daniel Morley assisted by Rev. Cedric Smith, Rev. Dr. Clemon Ferguson, Rev. Dr. Adam Brown, Rev. Dr. Irvin Clarke and Rev. Dr. C. W. Saunders. Interment in The Church's Cemetery.
She is survived by her Mother: Deaconess Maria Pinder; Father: Rev. Hilton Pinder; Adopted Father: Rev. Cedric Smith; Daughter: CeArtra Roberts; Adopted daughters: Theresa & Kay;
Son: Crisaud Rolle; Son-in-law: Oneil Roberts; Granddaughter: Javeah Roberts;
Adopted Grandchildren: Ajahanique, Brittany, Desmonique, Airrinna, Trevor and Lucnise; Sisters: Ann Burrows, Barbara Roberts, Audrey Gaitor, Lisa Ming, Karan Deveaux, Patrice, Marion, Lisa, Janet, Wayne Duncombe, Sheila & Monique Pinder;
Adopted sisters: Sophia Smith, Terrianne Rolle, Paulette Cole; Brothers: John Morley, Stephen Duncombe & Rodney Pinder; Adopted brother: Pastor Frederick McAlpine;
Aunts: LeDoris Ferguson, Petrona Smith, Viola Hanna, Sharon Edgecombe, Marie Deveaux,
Queenie Pierre, Delphenia Ferguson, Sonia Morley, Melonie Bowe; Uncles: Rev. Daniel Morley, Patrick Ferguson, Fredrick Bowe, Danny Edgecombe, Oneil Hanna & Joseph Pierre;
Sister-in-law: Olive Morley; Brothers-in-law: Patrick Roberts, Aiden Burrows, Gregory Deveaux; Nieces: Samantha Morley, Tasheria, Tasheka, Ketra, Grace, Stacy, Crystal, Susan, Zephenia, Zephramae, Lashan, Latisha, Tyricka, Victoria, Monica, Sandy, Jewels, Diamond, Robertha, Keithra Morley; Nephews: Tashaughn, Caleb, Alvin, Keron, Stephen Jr., Randy, Andy, Troy, Lavardo, Edgar, Patrick, Edward, Christopher, Jeremy Butler, Dauntae, Shadrack, Thomas, Jeremy Roberts, Moses and Zimry; Grand Nieces: Philandria, Fendi, Oneisha, Alicia, Tajhanae, Tajhanique, Enaycia, Jamika, Tyranique, Tenesha and Myra; Grand Nephews: Tiano, Raymond, Ahmad and Christopher; God Children: Stavincia, Rashad, Kariese, Aldon, Pedro, Bernard, Kennyatta, Shacandia, Levan, Erian, Alano, Jalena, Sonovia, Rasmin, Keniel, Waydero, Raydesha, Shameko, Kareem, Deandra and Breanne; Cousins: Millicent, Tammy, Carolyn, Janerese, Beryl, Michelle, Olivia, Lorence, Dwayne, Denike, Danielle, Deillo, Regina, Frederick Jr., Keturah, Kenny, Gareen, Jermaine, Triphenia, Paulette, Advira among many others; Other Relatives & Friends including Rev. Dr. Charles W. Saunders, Pastor Clemon & Mag Ferguson & Family,
Rev. Pete & Laverne McKenzie, Dr. Adam Brown & Family, Rev. Bloneva McKenzie & Family, Anthony Moss MP & Family, Anthony Musgrove & Family, Paulette Taylor, Vincent & Etoy Bethel & Family, Angie Bethel & Family, Albertha Bullard & Family, Theresa Black & Family, Richard & Debbie Balfour & Family, Deacon Alexander Taylor & Family, Veronica Marshall & Family, Vernon, Mag & Janeen Curtis, Joan Bethel, Sharon Smith, Malvese Bethel, Celsia Rolle, Hilerina, Hardiece, Clifford Strachan & Family, Danny Major & Family, Mary Dames & Family, Pricilla Clarke & Family, Brian & Pamela Strachan, McDonald & Sheena Ferguson, Ashford & Jackie Ferguson, Sharon Smith, Officers & Members St. John s Baptist Church, Department of Public Service Business License Exuma, Staff at Administrators Office, Staff at George Town Clinic and The Entire Community of Exuma.

The body will repose at Kurtiss Memorial Mortuary, Ramsey Exuma on Friday from 12:00 Noon until 6:00 P.M. and at the church on Saturday from 9:00 A.M. until service time
In lieu of flowers donation may be sent directly to account # 18868 Scotia Bank George Town, Exuma in the name of Crisaud Rolle Educational trust fund.