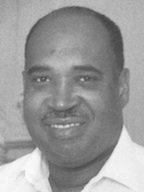 Clunis Stephen Febern Devaney
unknown - unknown
A SERVICE OF THANKSGIVING
FOR THE LATE
CLUNIS STEPHEN FEBERN DEVANEY
Age 65
Born 3rd January 1948
Died 12th April 2013
Service Held At
ST. AGNES ANGLICAN CHURCH
SATURDAY 27th APRIL 2013 AT 2:30PM
Officiating: Archdeacon I R Brown
Assisted by: Reverend Father Neil G Nairn
Organist: Mr. Preston Ferguson
Interment
St. Agnes Cemetery


CLUNIS STEPHEN FEBERN DEVANEY
1948-2013

OBITUARY
Clunis Stephen Febern Devaney
1948-2013
Clunis Devaney was born on 3rd January 1948 in Nassau, Bahamas. Clunis was a quiet, honest, trustworthy man who was devoted to family and community. He was a man of a strong Christian faith that valued hard work and all these characteristics were evident through every aspect of his life.
He was the last born of Mr. James Devaney and Mrs. Beatrice Wilson. Clunis had two brothers and three sisters. In 1982, Clunis married Mrs. Naomi Dean-Devaney and they lived happily together for over 30 years.
He attended St. Johns College and Prince William High School and upon graduating in 1967 started his lifelong career in journalism.
Early in his career, Clunis trained on the job with the Tribune and Bahamas Times and later joined the Nassau Guardian Ltd. in November 1970 as a Parliamentary Reporter.
In 1974, Clunis completed studies in Public Relations and Communications and a further course of study in Mass Communication at the University of the West Indies (UWI) in Kingston, Jamaica. This course was held jointly between UWI and the United States Information Services.
Clunis worked for the Guardian from April 1970 to February 1999 and held the position of Reporter, Acting Sports Editor, Sub Editor and Editor and Acting Managing Editor. In all of these positions his performance was excellent.
During his career, he covered major political events that included the 1972, 1977, 1982 and 1987 general elections and the historic 1973 Independence celebrations. Other major events Clunis covered include, the 1975 and 1985 Royal visits by Britain's Queen Elizabeth II; the Commonwealth Heads of Government Meeting in October 1985 and the major narcotics meeting held in 1985 during which time Operation Bahamas and Turks and Caicos (OPBAT), a joint interdiction effort between the United States, The Bahamas and the Turks and Caicos Island was officially launched.
Clunis retired from The Guardian in 1999, but could not give up his love for writing and mass communications. He went on to work for Love 97 and the Bahamas Information Services (BIS). After retiring, Clunis started and ran his own company, Tainos Publications, the Bahamas first multi lingual paper that was written in several languages before joining ZNS. While at ZNS, Clunis continued to cover news within the Bahamas and in 2008, returned to the Nassau Guardian, the place he called home as a Copy Editor.
Clunis never suffered any major illness until 2009, when he was admitted to Princess Margeret Hospital due to diabetes. During his stay in the hospital, his left leg was amputated, however; this feat did not change his unwavering love for communications, and he continued to report to The Guardian where he quietly carried out his duties.
Clunis began his religious servings as an altar boy in St. Francis Xavier Cathedral and later joined the Brethren at East Street Gospel Chapel. Clunis also attended East Street Gospel and Abundant Life Bible Chapel before finding his final Christian home at St. Agnes Anglican Church. At St Agnes, Clunis was an active member in the Pastoral Care Ministry, ACM and the Usher Board right up to the time of his passing on 12th April 2013.
Clunis was predeceased by both parents James Devaney and Beatrice Wilson and two brothers, James Devaney and Vincent Wilson and his sister Sybil Smith-March.
Clunis is survived by his wife: Naomi; two sons: Tio and Stephen Devaney; one daughter: Latanya Devaney; two grandsons: Jaylyn and Tristan Devaney; one daughter-in-law: Tara Devaney; two sisters: Florett Hepburn of Miami, Florida, and Theresa Bruno of Washington, D.C.; five brothers-in-law: Edward Hepburn, Frank (Carolyn), Thomas (Thelma), Hezekiah (Marsha) and Cecil Dean; five sisters-in-law: Norlean Wilson, Lillian Fox, Sherry Smith (Wilbert), Gwen Martinborough (Bernard) and Ruth Johnson; nieces: Joy Maria Ann Dixon-Ferguson, Brenda Marina Dixon-Price of Queens, New York, Lonnie Emmeline Dixon-Rolle (Cedric Sr.) of Eleuthera, Junnette Priscilla March-Radjpaul (Norval) of Queens, New York, Catherine Joyce March-Wright (Willie); Germaine Manley; Yolande, Heather and Candice Bruno; and Lorraine Bethell; nephews: Robert Frederick Hall; Edward Jr., Gerard and Gary Hepburn; Webster, Peron, Dillon, Darius; grand-nephews and grand-nieces: Oswald Ferguson, Jr. (Mareen), Troy Ferguson of Miami, Florida, Rev. Terrence G. Morrison (RoyAnne), Valentino Bethell, Cedric Rolle, Jr. (Denice), Robert Terrell Hall, Tarvan Symonette (Elizabeth), and Sean (Samantha) and Kevin Price of Queens, New York; Tamika P. Symonette, Meisha M. Ferguson, Angelique K. Butler, Sophia Higgs (Darron) and Chrystal Bethell; great-grand nephews and great-grand nieces: Hugh and Travis Ferguson; Demetrius Ferguson of Miami, Florida; Cedric III and Cordero Rolle of Eleuthera; Christopher Price of Queens, New York; Tristen and Tyrese Higgs; Tamara, Shakira and Jamie-Lee Ferguson; Dianna Ferguson of Miami, Florida; Alicia Major; Moesha, Denicia, Lonniesha and Angel Rolle of Eleuthera; Nia Price and Brittany Grooms of Queens, New York; Teranne and Terroy Morrison; great-great-grand nephews and nieces: Tarvan Symonette Jr.; Vanlese Symonette, Darren Mackey Jr., Trevayne Pinder Jr.; Demicia Deveaux; and Lamond Davis; many cousins including: Beulah, Wilbur, Elsie and Veronica Smith of Mars Bay, Andros; Ashiel Smith of Freeport, Grand Bahama; Alvin and Lionel Smith of Miami, Florida; Edithmae Ferguson, Verlee Curtis; Jim Nixon of New York and family; Barbara Sweeting; Roger Nixon and family, Perky & Hugh O'Brien; Rhonda, Terry, Terria and Tyler Murray; Michael and Maria O'Brien and Marguerite Grant; Margaret Duncombe and family; Lorraine Rolle and family.
Other Relatives and Friends: Olga Butler, Rev. Ranfurly Brown, Rector of St. Agnes and the Church Family of St. Agnes Parish; Staff at the Nassau Guardian (1844) Ltd, The Tribune, Love97, Bahamas Information Services (BIS), Bahamas Broadcasting Corporation of The Bahamas (ZNS); Mary Davis and family; Pastor Malcolm, Pastor Ed Allen, Pastor Gill Maycock, Pastor Cranston and the Church family of Abundant Life Bible Chapel; the Church families of The East Street Gospel Chapel and St. Francis Xavier Cathedral; Whitney Forbes; Jacqueline and Judy Toote, the Staff of the House of Assembly, the Staff and Parents of The Learning House Preschool and Nursery and the Staff at the Registrar General's Department, Rueben G. Lodge #1560, and a host of other relatives and friends. We apologize if we missed anyone.
A special thanks to the doctors and nurses of the Accident and Emergency and Male Medical II wards at the Princess Margaret Hospital, especially Dr. Hunt, Dr. Riccardo and Nurse J. McIntosh.
ORDER OF SERVICE
RECEPTIONOF THE BODY:
With faith in Jesus Christ, we receive the body of our brother CLUNIS for burial. Our brother was washed in Holy Baptism and anointed with the Holy Spirit. Let us therefore, with confidence, pray to God our Heavenly Father, the Giver of life, that He will raise him to perfection in the company of the Saints.
Celebrants: The Lord be with you
ALL: And also with you.
Celebrant: Let us pray
O God of grace and glory, we remember before you this day our brother. We thank you for giving him to us, his family and friends to know and love as a companion on our pilgrimage. In your boundless compassion, console us who mourn. Give us faith to see in death the gates of eternal life, so that in quit confidence we may continue to our course on earth, until, by your call, we are united with those who have gone before; through Jesus Christ our Lord.
ALL: Amen
OPENING SENTENCES:
Jesus said, I am the resurrection, and I am the life, he who believes in me, though he die, yet shall he live, and who ever lives and believes in me shall never die.
John 11:25-25
The steadfast love of the Lord never ceases, his compassion never fails: every morning they are renewed.
Lamentations 3:22-23
Jesus said, let not your hearts be troubled; believe in God; believe also in me.
John 14:1
I am sure that neither death, nor life, nor angles, nor principalities, nor powers, nor things present, nor things to come, nor height, nor depth, nor anything else in all creation, will be able to separate us from the love of God in Christ Jesus our Lord.
Roman 8:38-39
If we live, we live in the Lord, and if we die, we die in the Lord; so then, whether we live or whether we die, we are the Lord's. For to this end Christ died and lived again, that he might be Lord both of the dead and of the living.
Romans 14:8-9
We brought nothing into the world, and we take nothing out. The Lord gives and the Lord takes away: Blessed be the name of the Lord.
Job 1:21
The eternal God is our refuge, and underneath are the everlasting arms.
Deuteronomy 33:27
OPENING HYMN……………………………Through All The Changing Scenes Of Life (N. Tate and N. Brady)
Through all the canging scenes of life
In trouble and in joy,
The Praise of my God shall still
My heart and tongue employ
O magnify the Lord with me,
With me exalt His Name;
When in distress to Him I call'd
He to my rescue came
The Hosts of God encamp around
The dwellings of the just;
Deliverance He affords to all
Who on His succour trust.
O make but trial of his love,
Experience will decide
How bless'd are they, and only they
Who in His truth confide.
Fear Him, ye saints, and you will then
Have nothing else to fear;
Make you His service your delight
Your wants shall be His care
To Father, Son, and Holy Ghost,
The God whom we adore,
Be glory, as it was, is now,
And shall be evermore.
CELEBRANT: The Lord be with you.
ALL: And also with you.
CELEBRANT: Let us pray
Almighty God, we remember before you today your faithful servant CLUNIS; and we pray that, having opened to him the gates of larger life, you will receive him more and more into your joyful service, that with all who have faithfully served you in the past, he may share in the eternal victory of Jesus Christ our Lord; who lives and reigns with you, in unity of the Holy Spirit, one God, for ever and ever.
ALL: Amen
THE MINISTRY OF THE WORD
THE OLD TESTAMENT LESSON………………………………..…Wisdom 3:1-9…….read by ACM
READER: A reading from the Word of God Written in the Book of Wisdom, Chapter 3 verses 1 to 5 and verse 9
The souls of their righteous are in the hands of God, and no torment will ever touch them. In the eyes of the foolish
Pallbearers
Theo Devaney Tarvan Symonette
Stephen Devaney Travis Ferguson
Anthony Smith
Honorary Pallbearers
St. Agnes Parish Men's Group – ACM
Acknowledgments
The Family would at this time like to express our sincere thanks
and appreciation to all those who have offered prayers,
words of comfort and acts of kindness during this, our time of grief.
You have made a difficult time less so.
We thank you and pray that God may bless you all.
The Family