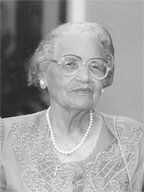 Ella " "Tempie" " Jane Adderley
unknown - unknown
Funeral Service for the Late Ms. Ella Jane "Tempie" Adderley nee Albury, 91 years of #40 Musgrove Street and Providence Avenue and formerly of Berry Islands, will be held on Saturday April 20th, 2013, 10:00 a.m. at Holy Spirit Anglican Church, Howard Street, Chippingham. Fr. Peter A.G. Scott assisted by Fr. Enrique McCartney, Rev. Dr. James Moultrie and Canon Harry Ward will officiate. Interment will follow in St. Mary's church cemetery, Virginia Street.
Aunt Tempie leaves to cherish fond memories: Adopted daughter: Josephine Audrey (pre-deceased); Step-Daughter: Shirley McDonald Braynen nee Adderley; Regarded Son: Allan Lightbourne; Regarded Daughters: Sonia Bostwick Williamson and Leila Armbrister; Grandchildren: Nicola Eve, Besheba Bowe nee Eve, Llewelyn Parker (Roikel), Clarke Campbell Adderley (deceased), Andrew Campbell Adderley (Sherry), Donald D. McDonald (Evangeline), Carla Braynen Turnquest (Colin), Parish A.K. Price and Derek "Chocolate" Rolle; Great Grandchildren: Montessa, Diva, Jamie, Logan, Lucas, Doneva, Donathon, Dominic, Tehya and Jamal; Nephews: Arthur, Ted, Jeff, Charles, Andrew, Kevin, Elgin, Albury and Ted Miller (Albury); Niece: Fredrika "Freddie" Albury; Cousins and other family members including: Muriel Lightbourne and children, Family of the Late Talbot Lightbourne, Mr. George Lightbourne and Family, family of the Late Wilfred Lightbourne, family of the Late Iva Martin; Rosalind, Cecile, Clarence, Mr. & Mrs. Leroy (Louise) Pople and children; Leanza Pople and Family, Leroy H. Archer and Family, Albertha Roberts and Family, family of the Late Reuben and Wealthy Gomez, Flossie Seymour and Family, Doreen Marche and Family, Dr. Dane Bowe, Bernice Eneas and Family, Family of the Late Inez Bowleg, Family of the Late Mary Roberts, Louise Fox and Family, Louise Gibson and Family, Dr. Deryck Richardson (Ohio), the Silva Family (Miami), Larry McDonald (New York), Sherry Brown, Zena McKenzie, Madge Bowleg, Eunice Greene, Lillian Wallace, Gwendolyn and Raymond Winder, Olga Whylly and Family, the community of Bullocks Harbour, Fr. Peter Scott and the Church of the Holy Spirit, the Chippingham family, the Berry Islands family, God Children: Laurel Bartlett, Leroy Archer, Leria Archer and Michael Fernander; Care-giver: Ivalyn Mills.
There will be no viewing at the church (Saturday morning).