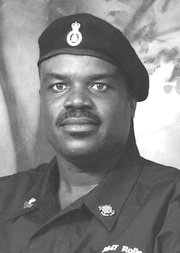 Kevin Livingston Rolle
unknown - unknown
Full Military Service for the late Police Sgt. 2647 Kevin Livingston Rolle (Pastor) age 46 years old of Black Point, Exuma will be held on Friday April 19th, 2013 at 11:00am at Church of God Auditorium, Joe Farrington Rd. Officiating will be Pastor Glen Philip Rolle, assisted by Rev. Henry Rolle, Pastor Practon Patton, Rev. Frankie Scott and Father Stephen Davies, R.B.P.F. Interment will follow in Woodlawn Gardens, Solider Road.
Loving Memories will linger in the hearts of his Wife: Esther Rolle; Sons: Kato & Kenaz Rolle; Daughter: Kaynisha Rolle; Father: Deacon Hartman Rolle; Adopted Sons: Carlos Rolle , Kearje Smith, Shavardo "Coke" Coakley and Elvardo Johnson; Brothers: Brensil Rolle, Pastor Glen P. Rolle, Rev. Henry Rolle, Sgt.460 Dwayne Rolle (Chairman of the Police Staff Association), Leading Seaman Dan Rolle and Raymond Andrews; Sisters: Geroldine Rolle, Shelia Ingraham, Sharon Taylor, Priscilla McIntosh, and Selina D. Bain; Mother in Law: Pearline Ingraham; Uncles: Captain Leviticus Patton, John Munroe, Vivian, Leroy, Morris, Walter and Timothy Rolle, Logan Decosta, Everett, and Patrick Thompson; Aunts: Eturpie Munroe, Deaconess Alma Knowles, Thelma, Curlene, Francis, Dossie ,Gertrude Rolle,Idell Ferguson, Clare Brown, Emerald Patton, Irene Decosta, Betty Clarke, Mary Arnette and Francina Grant; Sister in Law: Cynthia, Yvette, Beverley, Judith, Sharon Rolle, Ulresa Andrews, Barbara Bain, Ingrid Gibson, Ann Smith, Heather, Janice Ingraham (Tampa Florida); Brother in Laws: Gary Ingraham, Hollie Taylor, Delvin McIntosh, Lavern, Richard, Don, Bertrum, Kenneth, Oswald Ingraham (Texas) and Gordon Smith; Grand Aunts: Mildred, Bernice Robinson, Edithmae Taylor, Brenda, McNeil, Vernal McKenzie, Annie Lloyd and Susan Nixon; Nieces: Shenique Wright, Nakeitha Kemp, Latoya, Attorney Kristal Rolle, Shayvette McCoy, Trinda and Elizabeth Taylor, Delvernique McIntosh, Akiah, Darnell, Ruth, Candice, Selina, Knazia, Danielle, Dantiesh, Jayden Rolle, Raven, Ramiya Andrews, Bernadette, Marilyn, Rasharra, Cherrie, Latia, Dormetria, Khristen, Dyvone Ingraham, Carla McDonald, Charnell McIntosh; Nephews: Wellington McIntosh, Const.2846 Garvon McDonald, Garnet Taylor, Simeon Bain, Marco, Renaldo, Rondeno, Denaldo, Malcolm, Henry Jr., Eythan, Dan Rolle Jr., Kobe Andrews, Tramine, Tyrone Bain Jr., Bernard, Bernardo Lacoy Ingraham, CPL. 869 Tito McCoy Sr.; God Mother: Valcina Bain; Godchildren: Nathalia Burrows, Simone Ferguson and Devon Pinder; Grand Neices & Nephews: Theodore Bastian, Theanielle Russell, Lashante, Garvonique McDonald, Tanisha Bain, Wellington McIntosh Jr., Tito McCoy Jr., Tyler Brice, Demargio Wring and Wellington McIntosh Jr.; Cousins: Basil, Alpheaus, Preston Rolle, Rev. Gladstone Patton Sr., Everette, Perry, Peter, Prince, Pedro, Percy, Sgt. 1841 Practon Patton, Perez, Terrance, Joseph, Robert, Dale Patton, Robert Brown, Jeffery, Roger, Edwin, Mervin Munroe, Cedric Maycock, Leander Pinder, Attorney Terry Archer, Edwin, Wellington, Raynor Andrews, Stephen, Sammy, Sterling, Stanley, Shervin Knowles, Selvin, David, Andrew and Germaine Brown, Leading Seaman Larry Rolle, P/Sgt. 661 Nigel Rolle, Sgt. 1843 Daryl Rolle, Clement, Roscoe, Uriah, Lynden, Gerard, Lindsay, Lorence, Ken, Wayde, Lerando, Bradley, Christopher, Milton, Tarvin, Jason, Shavago, Melvin, Lehandro, Shervin, Rodrick, Kenson, Harrison, Andrew, Harold, Divincie, Deangelo Rolle, Cedric, Joseph, Lemeul, Jason Ferguson, Denny Bain (Freeport), Aileen Hudgins, Valerie Burrows, Betsy Cleare, Maureen, Patrice Patton, Jane Bethel, Katrina James, Anita Moxey, Marietha Rolle, Marsha Strachan, Louise Munroe, Cynthia Taylor, Stephanie White, Sandra, Sherry Knowles, Deborah Butterfield, Marilyn Rolle, Bloneva ,Eulease, Monique, Emma Brown, Verdell, Lueann, Shenique Ferguson, Carolyn, Elaine, Pauline, Gaylene, Melvern, Cindy, Kathy, Carol, Ruby Rolle, Dorcas, Leotha, Michelle Kemp, Elvy Armbrister, Nadine Saunders, Orien McPhee, Mavis, Sheryl, Tracey, Shereen, Lithera, Garnell, Tara, Litesha, Shaquel Rolle and Pandora Palacious; Church Family: Pastor Frankie Scott & family, Mary Smith, Beryl Kemp, Linda Phillips, Rowena Rolle, Rev. Jacob Adderley & family, Rev. Oswald Bain & family, Pastor Steve Mowery & family, Rev. Harrison Pinder, Rev. Cecil Kemp, Rev. Edmond Munroe & family, Church of God of Prophecy (Inagua), Pastor Pierre , Chestangeand Tampa Church family, Pastor Malarie Roxbury, Charlie, Sharon, Vassallo, Hillside Restoration Kingdom Ministries, New Birth Deliverance Kingdom Ministries and Community Holiness Church; Other Relatives and Friends: Florine Smith & family, Burke Smith & family, Rev. Lawrence Adderley & family, Bishop Lewis Adderley, Pearline Brown, Vernie Davis, Sidney Mcphee, Ida Patton, Burkie Wright, Loretta Miller, Valderine Taylor, Coreen Rolle, Oria Rolle, Clyde Rolle, Don Rolle, Hariam Rolle, Susie Rolle, Pastor Patrick Rodriquez and family, Apostle Kelson Miller, John Wright & family, Emma Pickstock and the Pickstock family, Gloria Wilson, Iclyn, Inez Smith, Nicole Ferguson, Quincy Munroe, Lundy Robinson, Audley, Lernis Brown, Helen Barr, Myrtis Gibson, Rovena Smith, Hestine, Genise Kemp, Curley Williams, Berdie Robinson, Elvardo Johnson, Samuel Smith & family, Janet Carey, Veronica Marshall, Bervin Brown, Pandora Evans, Simeon, Dian Smith, Solomon Robinson, Agnes Smith, Glen Brown, Cecil Smith & family, Sudlin, Myrtle Black, Bertrum Brown & family, Eleanor Rolle, Neta ,Lorena Rahming, Sharon Pollard & family, Shirley Small, Ruth Moss, Shantell Dames, Pearmon Rolle, Tyrone Bain Sr., Delano Gibson, Shonia, Edna Ingraham, Javon J.J. Roberts, Esther Hall, Geneva McIntosh & family, The Ferguson, Oliver, Smith, Rahming, Ingraham, Edwards, Kelly, Grays, Allen, Collie, Josey, Kemp, McKenzie, Wright, Lloyd, Hart and Burrows families, The Green Castle Family, Bertram, Curlin, Henzel, Kenue and Evangeline Rolle, Lincoln and Lana Taylor, Pride Estate Family, Mr. & Mrs. Darren Ramachala, Mr. & Mrs. Carl Bain, Garnet Gray, Bahamas Holy Bible Mission Church Inc., Pilots & Staff of Flamingo Air, Administration Staff Govt. Office George Town Exuma, The Police Dept. Exuma and Ragged Island, Cpl 417 Curtis, Johnson, ACP. Hulan Hanna, ACP Quinn McCartney, Retired Commissioner Reginal Ferguson, Willard Cunningham, Supt. Daniels, Supt. Clarence Finlayson, Supt. Evans, ASP. Bradley Sands, Insp. Ezra Duncombe, PC Earl Turnquest, Jack Thompson, Bursil Musgrove, Esther Cooper, Mr. & Mrs. Rampersaud, B. Squad 2002, The owners & operators of: Bell Island, Overyonder Cay, Musha Cay, Buck Cay, Lee Stocking Island, White Bay Cay, Fowl Cay, Sampson Cay, Harbourne Cay, Bahamas Holy Bible Mission Corp. Church family, the entire community Black Point, Staniel Cay, Farmers Cay and Barraterre, Exuma.
Viewing will be held at the Paul Farquharson Conference Center, Police Headquarters, East Street on Thursday (TODAY) from 12:00 noon to 6:00pm and at the church on Friday from 10:00am until service time.