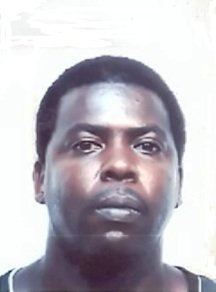 Mark Anthony Williams
unknown - unknown
Mark Anthony Williams age 48 years of #45 Antigua Street, Elizabeth Estates will be held on Saturday, April 20, 2013 at 2pm at St. George's Anglican Church, Montrose Avenue. Archdeacon G. Kingsley Knowles, assisted by Rev. Fr. Andrew Toppin will officiate and burial will be in Old Trail Cemetery, Abundant Life Road.
The Radiance of this "Garnet of A Gem" will always glow in the hearts of his:
Parents: Whitfield and Priscilla Williams;
Son: Jermaine;
Siblings: Deborah, Larry and Gary Williams, Sheakiel Knowles, Gia Ferguson and Ricardo Moultrie;
Two Nephews: Jamaal Williams and Jarome Johnson;
Two Nieces: Robyn and Gabrielle Knowles;
Two Brothers-in-law: Inspector Sheldon Knowles and James Ferguson;
One Sister-in-law: Chantel Moultire;
Three Uncles: Bernard and Patrick Bethel and William Johnson;
Six Aunts: Gwendolyn Johnson, Carolyn Moss, Sylvia Bethel, Naomi and Advilda Williams and Gloria Kemp;
Special Friend: Sharmaine Curry;
Other relatives and friends: Chrishna and Cecille Ramsey, Allison Thompson, Suzanne Morley, Norma Cox, Janice Evans, Jacqueline, Martin and Terrance Powell, Sharon and Ashlyn Miller, Quincy Major, Austine, Livingston, Carolyn and Cydlaura Rolle, Trevor, Greg, Jason and Chris Williams, Aldora Curtis, Herman Brown, Claudell Griffith, Oswald and Millicent Ferguson, Keith Mason, Darlene and Arlene Smith, Lisa Armbrister, Anastacia Bowe, Anastacia, Jonathan, Isadora, Blanche and Geraldine Johnson, Fr. Mark and Mildred Fox, Millie Cambridge, Clifford "Butch" Scavella, Sherman, Eltoy, Keith and Rita Moss, Luther and Maryann Nottage, Ricardo and Sharmaine Thomas, Tony, Rev. Vernita, Angelo, Patrice, Bernadette, Robert, Cindy, Mark, Tina, Tory and Trina Bethel, Rosemary Jones of Fort Myers, Florida, Christine Smith of Miami Florida, Angela Collier, Rev. William and Willimae Hepburn, Nellie Woodside-Fortt, Tanoya Gaitor, Juanita Sears, Lulamae Greives, Mr. & Mrs. Keith Gilbert, Rev. Dr. Godfrey Bethel, Father Kingsley Knowles, Fr. Andrew Toppin, Brenda Duvalier, Fr. Oswald Pinder, Fr. Roland Hamilton, Barbara and Charles Burns and their families, The Carroll, Cartwright, Knowles, and Major families, Kenilworth Street and Antigua Street Elizabeth Estates families, the Management and Staff of J.B.R. Building Supplies Ltd., Adrian and Charles Burrows, Willie, Perry, Rick Saunders, Heather Cartwright.
Special thanks to the: Doctors and Nurses of the Male Orthopedic Ward, Princess Margaret Hospital, especially Nurse Claudine Hepburn who provided special care. Ebenezer Methodist Church, St. Margaret's Anglican Church, St. Margaret's Anglican Church Choir and St. Georges Anglican Church families, the Management and Staff of the Lyford Cay Club, the Management and Staff of K.S. Moses 2000.
Visitation will be in the "Sapphire Suite" Emerald Ridge Mortuary & Monument Company Ltd. #20 Claridge Road on Friday, April 19, 2013 from 1pm to 6pm and at St. George's Anglican Church, Montrose Avenue on Saturday, April 20, 2013 from 1pm to service time.