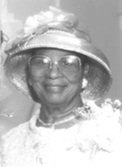 Marlene Eugenia Dolly Patton
unknown - unknown
Last rites for Marlene Eugenia Dolly Patton aged 74 of Winton, Prince Charles Drive and formerly of Steventon Exuma, will be held on Saturday at 10:00 A.M. at St. John's Native Baptist Church Cathedral, Meeting Street. Officiating will be Rev. Dr. Michael C. Symonette C.B.E., J.P., Rev. Dr. Hervis L. Bain Jr. assisted by Other Ministers of the Gospel. Interment in St. John Native Baptist Cathedral Cemetery.
She is survived by her two sons: Rev. Eugene Patton and Keith Patton, daughters-in-law: Sandra Patton, Leah Patton and Vandlyn Patton, 9 grandchildren: Eugene Patton III, Travon Patton, Eugena Patton, Felicia Patton, Rashad Patton, Patrina Patton, Gizelle Patton, Mileah Patton and Marlyanna Patton: four great grandchildren: Kamari Bannister, Keano Curling, Kaelin and Kail Kemp; Two brothers: Percy Pinder Jr. & George Rolle; two Sisters: Dr. Endelee Bush(U.S.A.) and Elizabeth Smith(Freeport), two Adopted Sisters: Estella Knowles & Willamae Rolle; One Uncle: Alfred Adderley; One Aunt: Winifred Rolle; Nieces: Kayla Burrows, Hattie Clarke, Estelle Grey, Rosemary McPhee, Janet Albert, Nephews: Craig Charlow, Fletcher Minnis Jr., Ovan Moss, Raymond Hepburn, Khalal Kalfani and Kenneth Alleyne. Cousins: Whitney Rolle, Terry Bowe, Edna Deveaux (of Jacksonville Florida), Daphne Adderley, Janet Taylor, Suzette, Don, Stephen and Paul Adderley, Sybil-Patton-Deveaux & Family, Dorothy Patton Bethel & Family, Maudleen Patton Josey & Family, Margo and Pedro Knowles, Rev. Emerson Patton (Stuart Florida), Bishop Robert Patton (Virginia), Barbara Hanna, Madlyn Ferguson, Joseph Smith, Cyril Rolle, Nigel & Melissa Strachan, Nurse Leona Patton-McKenzie, Bernadette & Walter Bain & Family, Adopted Daughter: Sharon Thompson; Caretaker Jacqueline Burrows & Family, especially Precious Burrows, Best-friend Willamae Farrington; Dorothy Grant (Mother of Grandson Rashad Patton), Juietta Patton (Mother of Granddaughter Felicia Patton), Carmel Turnquest (Mother of Granddaughters Giselle & Patrina Patton) A host of other relatives and friends including: Mervin and Prudence Morris, Emile Hutcheson, Adam Munroe and family, Sylvia Peterson and family, Michael Hinsey & Family, The Campbell's of North Andros,
Rev Dr. Michael C. Symonette and Dr. Hilda Symonette, Rev. Dr. Hervis Bain and Deaconess Beverly Bain, Mother Catherine Pratt, Stephanie & Keith Seymour, Ezekiel Williams & Family, St. John's Native Baptist Church family and the St. John's Community Marching Band.
The Power house Ministry Family, The Prince Hall Order of the Eastern Star family, Ridgeland Park West Family. The Mother's Club Family, Data Processing Dept.at the Ministry of Finance,
The Unicity family, Staff of Breezes, Stephen Greenslade of ICS, Colina Life Claims Dept. Nurse Ruth Coakley, Ms. Shirley King, Mrs. Clarita Lockhart, Karen & Allen Anderson (Miami Florida), Neighbor- Mrs. Cassine Grant-Kinear & Winifred Williamson & Family.
The body will repose at Kurtiss Memorial Mortuary, Robinson Raod and Fifth Street on Friday from 11:00 A.M. until 6:00 P.M. and at the church on Saturday from 9:00 A.M. until service time.