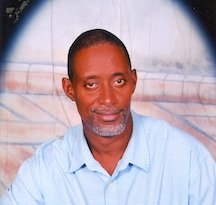 Marcos Armbrister Sr
unknown - unknown
Funeral Service for Mr. Marcos Armbrister Sr., 45 of Cecil Way, East Street South will be held at Golden Gates Assembly on Saturday August 24th, 2013 at 11am. Officiating will be Supt. Dr. Alfredo burrows Assisted by Rev. T.L. Hanna. Interment will be held in the Southern Cemetery, Cowpen and Spikenard Roads.

Left to cherish his memories are his wife: Chickita Armbrister; Children: Marcos II, Marcos III, Thomas Armbrister, Laverne Armbrister; Mother: Rev. Roslyn Speights; Father: Thomas Armbrister; Stepmother: Phyllis Armbrister; Stepfather: Gordon Speights; Mothers-in-law: Inez Smith and Shirley Pearson; Brothers: Juan and Deon Armbrister, Sgt Gordon Speights Jr. of the U.S. Army, Rolan Speights; Sisters Jacqueline, Theresa, Takeesha and Jenee Armbrister, Michelle and Roslyn Mcneil, Sandra, Dina and Valerie Sandra Hickman, Dinda Lucas (Bernard), Valerie Wise and Family; Aunts: Lilian and Brenda Smith, Norma Coleman, Delena Taylor (Charles), Paula Knight (Marshal), Vangy Rolle (Jeremiah), Doreen Deveaux, Kernita Sands, Olivia Symonette, Susan Hall and Edris Hall, , Dyann Carter and Frances Mclain; Uncles: Darrel (Susette), vincent (Kitty), Sandy (Shena), Keith, Jehu Sands, Fred Carter; Sisters-in-law: Miriam nairn, Nadina Armbrister, Natasha bethel, Rudell capron, Shonell Gittens, jackie Pearson, Dazelle Pearson, Roshelle Pearson, Ernestine Minnis.; Brother-in-law: Sgt. 2369 Sean Bowe, PC 555 Constable Edison Nairn, Nathan Pearson; Numerous Cousins, Nieces, Nephews, other Relatives and Friends: Brent Haines, Mr. and Mrs. Christie & the H.G. Christie family, Mrs. Bakrker, The Believers Worship Centre COGIC family, Bishop Ross Davis & Family, The Englerston Community, The Flamingo Gardens Community, Rev. Robert Ingraham & Friendship Missionary Baptist Church in Hallandale, Florida, Princess Margaret Hospital Medical Records, Switchboard & NICU, Her Majesty's Prison, Broward detention Center in Pompano Beach, Fl, Neville, Cyril and Edith Mackey & Family, Dr. David Sands & Family, Bishop T.L. Hanna & COGIC family, Cousin Bridgette Simpo, Stanley Saunders & family of Mississipi, Vanerdo & Tamara Thomas, Deborah Mackey & Famioly, Major's Construction Company, JBR family, The Paint Place family, Winkrbotham Trust Company of Credit Suisse, Wendy & Lisa Moss.

Friends may pay their respect at Demeritte's Funeral Home on Friday from 9 a.m. to 6 p.m. on Saturday at the church until service time.