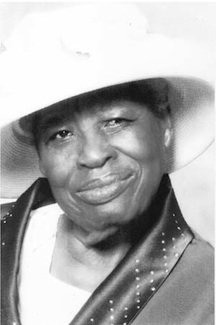 Gelena Hart Rolle
unknown - unknown
FUNERAL SERVICE for Matriarch Gelena Hart Rolle, Age 81 years, of Prince Charles Drive and formerly of Old Bight, Cat Island will be held on Saturday, December 28, 2013 at 11:00am.

Church: The Voice of Deliverance Disciple Center
Address: Malcolm Allotment
Officiating: Chief Apostle Bishop Leon Wallace
Assisted by: Bishop Michael Symonette, Bishop Neville Hart, Evangelist Rachael Mackey and Bishop Rudolph Balfour
Interment: Lakeview Memorial Gardens, John F. Kennedy Drive
She was preceded in death by her son: Uriah Morley
Precious memories will remain in the hearts of her husband of 51 years: Deacon Arthur Rolle; sons: John Rolle, Benjamin Rolle and World Chaplin Superintendent Bishop Lawrence Rolle; daughters: Reverend Muriel Johnson and Reverend Florence Clarke; grandchildren: Janet Wright, Anishka Davis, Stacy and Alicia Albury, Joando Thompson, Cordero Rolle, Tameka and Jeremy Johnson, Deborah Nixon, Esther, PC 3694 Samuel Rolle RBPF, Jacob, Rebekah, Lydia and Johnathan Rolle; daughters-in-law: Nicole and Reverend Macarla Rolle; son-in-law: Sunny Johnson; grandsons-in-law: Michael Wright Sr., Alton Davis, Troy Thompson and Guian Nixon; great-grandchildren: Janiel and Michael Wright Jr., Leeann and Joan Davis, Tronique, Brandon, Dayshea and Deangelo Thompson, Demico Kemp Jr. and Selena Denise Rolle; brother: Micah Hart; brothers-in-law: Getta and Herbie Rolle; sisters-in-law: Satella, Jean and Ola Rolle; numerous nieces and nephews including: Elvina, Cindymae, Sharon, Lorna, Letechia, Iena, Rebecca, Yvonne, Sherikah, Bernadette, Dedrie, Telecimae, Judy, Isabelle and Monique, Wilkah, Erskine and Roderick Hart; other relatives and friends including: Monica Hart and family, Erma Gilbert and family, Elenor Rolle and family, Buela Hart and family, the Brown family, the Gilbert family, Blunetta Roach and family, Deputy Prime Minister the Honorable Philip Brave Davis, Officers and Members of The International Deliverance Praying Ministry, Bishop Ross Davis, Bishop Simeon Hall, Bishop Leon Wallace and The Voice of Deliverance family, Bishop Neil C. Ellis and the Mt. Tabor family, Bishop Rudolph Balfour and the New Wine Kingdom Ministries family, Bishop Michael Symonette and The John's Native Baptist Society family, Charles Pratt and family, Pastor Stanley Ferguson and the New Free Community Holiness Church family, Shellymae Williams, Winnifred Thelma Neely, the Children of Florence Bonaby, Ishmael Rolle and family, the Moss and Seymour families, the Children of Blunetta Roach, the entire Communities of Old Bight and Devil's Point, Cat Island and other relatives and friends too numerous to mention. Special Thanks to: Shellymae Williams, Winnifred Neely, Reverend Mona Russell and Agnes Smith.
FRIENDS MAY PAY THEIR RESPECTS AT INTERNATIONAL DELIVERANCE PRAYING MINISTRY ON FRIDAY FROM 12:00 NOON TO 4:00 P.M. AND AT THE CHURCH ON SATURDAY FROM 9:00 A.M. UNTIL SERVICE TIME.