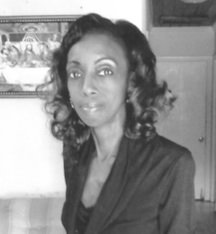 Thelma Beryl Cargill
unknown - unknown
Funeral Service for the Late Thelma Beryl Cargill, 51 years of Golden Gates #2, will be held on Friday July 12th, 2013, 10:00 a.m. at Mt. Moriah Baptist Church, Farrington Road. Rev'd. Dr. Wilton Strachan assisted by Bishop B. Wenith Davis will officiate. Cremation will follow.
Thelma Cargill was predeceased by her parents, the late Rev. Dr. Theodore M. Darling and Mrs. Gwendolyn Darling.
Precious memories of Thelma will linger in the hearts of her Two (2) Daughters: Kasynthi & Krystal Bodie; One (1) Grand-child: Ian Mills, Jr. Two (2) brothers: Dennis Darling, Sr., and Arlington Darling; Five (5) sisters: Ethelyn Morley, Francina Horton, Gloria Brown, Joyce Pratt, and Dr. Alvery Hanna; One (1) Aunt: Lenora "Queenie" Darling; One (1) Sister-in-law: Patrece Darling; Three (3) Brothers-in-law: Harris Morley, Herk Pratt and Patrick Hanna; Nieces & Nephews: Enith Darling; Eugene Horton, Tonya (Eardley I) Grant, Keenya Horton; Dennis Jr., Stacey, Devard (Cicely), and Lamont Darling, and Monique Smith; Yorick III (Mildred), Marshanique and Kayshonda Brown; Jermaine and Kiria Gibson and Kydaisha Pratt; and Tiffany Hanna; Grand Nieces & Nephews: Rayshayne, Devard Jr., Devaughn II Darling; Erica, Amber and Eardley II Grant; Ebony Horton; Mya McPhee, Tyria Deal and Amelia Brown. Other relatives & friends including: Charles (Dorothy) and Cathy Darling; the Darling Family; the Deleveaux Family; the Pratt Family; the McKenzie Family, the Hanna Family; Velma Cargill and the Cargill Family; Ian Mills Sr.; Eunice McKinney & Family; Sandra (Bishop Rudolph) Pinder & Family; Bishop Winslow (Shirley) Moss & Family; Bradley (Patrice) Jones & Family; Sally Fernander & Family; Veronica Neymour & the Russell Family; Wendy Hunter; Yvonne Moncur & Family; Vangy Barnett & the Bodie Family; Priscilla Williams; Beverly White & Family; Daphne Ferguson & Family; Ruthmae Francis & Family; Maybeline Miller & Family; Nikita Wilmore; Minister Vaughn Miller; Laura Lowe; Paulette Forbes; Edward Gardiner; Florida Young & Family; Ian Gilbert; Neighbours and Friends of St Thomas Road, Golden Gates II and the Hon. Minister D. Shane Gibson, MP, Golden Gates; the BAAA; Post Office Department; Ministry of Health; Bishop & Mrs. B. Wenith Davis & the Zion South Beach Church Family and the Entire Zion United Convention; Rev. & Mrs. Wilton Strachan & the Mt. Moriah Church Family; Rev. & Mrs. E. Louis Iphill & the Landmark Church Family; the BFM Church Family and a host of other relatives and friends, all of whom we recognize and appreciate but are too numerous to mention.
Special Thanks to: Dr. Philippa Pratt; Centreville Food Store; Phil's Food Services; and Herbert Brown & the Public Hospitals Authority.
Friends may pay their last respects at Bethel Brothers Morticians, #32 Nassau Street on Thursday from 11:00 a.m. to 6:00 p.m. and on Friday at the church from 9:00 a.m. until service time.