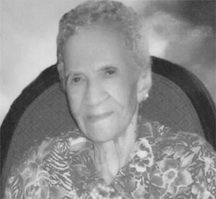 Lillian Brunetta Sherman
unknown - unknown
Funeral Service for the Late Lillian Brunetta Sherman, 103 years of Gregory Street and formerly of Marsh Harbour, Abaco, will be held on Saturday July 27th, 2013, 10:00 a.m. at the Most Holy Trinity Parish Church, Trinity Way, Stapledon Gardens. Rev. Fr. Mark Lindsey Fox assisted by Fr. John Kabiga, Fr. Roderick Bain and Fr. Richard Wood will officiate. Interment will follow in Lakeview Memorial Gardens, John F. Kennedy Drive & Gladstone Road.
Left to cherish fond memories of Brunetta are her Children: Edison (Mildred) Sherman, Grace, Agatha, Beverly, Winston, Ernestine Sherman, Audrey (Garland) Dean, and Yvonne Bullard; Grand Children: Adam Blake, Troy Drummond, Dania Saunders, Gia Cartwright, Vaughan and Desmond (Suzanne) Conliffe, Michael (Cheryl) Garland Jr. and Dillon (Charmane) Dean, Edney(Gigi), Dirkson, Kendrick, Dudley, Trevor, Quan Sherman, Collis (William) Bell, Jency (Sammy) Smith, Sharri (Anthony) Saunders, Terez (Dexter)Rolle, Nadia (Mendell) Rolle, Racquel(Dwight) Bethel, Indira (Kevan) Facey, Timika(Vincent) Pratt, Dion, Christine, Delvin, Wynette ,Tavella, Tia and Anastacia Sherman; Numerous great grand's and great great grand's including : Brian Caleb, Daniel, Sasha, Justin, Dillon Jr., Tristan, Jolie, Kristen, David, Candace, Willie, Brooke, Beth, Tristin , Samantha , Valentino, Tshae, Monice, Dwitney, Johnathan, Chavez, Dexter, Mendella, Mendezha , Bryneeah, Chave, Ashleah, Samuel, Abigail; Sisters: Veronica Gibbs, Christine ( Hallet) Fountain, Louise Archer , Alma Sawyer, Merle Roberts, Aileen Bell, Olga Wilchombe and Enid Sherman; Brothers: Norman, Howard, and Oswald Archer. Special Family Members: Philip, Corinne, Carol Sherman, Pamela Walkine, Carolyn Sawyer, Desiree Aranha, Eunice Sherman, Sandra Nottage –Sherman, Louis Hanchell, Helena Dorsette, James Catalyn, Noel Thompson, Barbara Faure, Sybil Archer, Sybil Spence, Velma Allen, Annette Knowles, Rosemary Archer, Carl Campbell, Judith Theophilus, Enola Burke, James and Barbara Weech, Miriam Simmons, Margaret and Dominic McPherson, Greg and Audrey Clarke, Joann Poitier, Ernestine Douglas, Genieve Scavella, Albertha Longley, Peggy Francis, Vernita Johnson, Vienna Johnson, Audrey Tucker ,Deborah Johnson, Vernell Moss, Shirley Thompson, Ruth Pratt, Elra Ward, Albertha Rollins, Alfred Sears, Carol Raad, Gail Munroe Terry Thompson, Diana Wallace, Judy Knowles, Princess Delaney, The Tom and Nogi Archer Family, The Brooks and Melly Sherman Family, Corinne Bartlett, Geraldine Brown, Blanche Weech and June Sands. Holy Trinity Church Family, ACW and Prayer Band, Fr. Mark Lindsay Fox , Fr. John Kabiga, Fr. Roderick Bain, Fr. Mervin Buck Johnson, Fr. Deangelo Bowe, Fr. Richard Wood and Fr. Etienne Bowleg.
Friends may pay their last respects at Bethel Brothers Morticians, #32 Nassau Street on Friday from 10:00 a.m. to 6:00 p.m. and on Saturday at the church from 9:00 a.m. until service time.