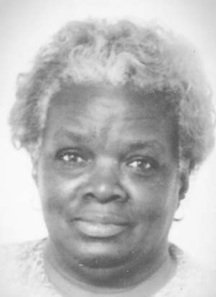 Lucille Kathleen Harry Higgs
unknown - unknown
Funeral service for Mrs. Lucille Kathleen Harry Higgs, 77 yrs., a resident of #34 Dennis Ct., Yellow Elder, will be held at Gospel Light Baptist Church, Cowpen Road, on Saturday at 10:30 a.m. Officiating will be Pastor Perry R. Cunningham. Interment follows in Lakeview Memorial Gardens, JFK Drive.
Left to cherish her memories and celebrate her life are six (6) sons: Bernard (JC), Barry, Edmund, Victor, Paul & Matthew Higgs; 1 daughter-in-law: Danyella; 10 grand children: Paulette, Alphaneak, Paul Jr., Laiquan, Shaquille, Lydia Blair, Carl Jerome, DeShawn, Ikeem Paige Johnson; 12 great grand children including: Dymond Ford; a host of other relatives & friends including: Florina Tinker, Marge Virgil, Pastor Perry R. Cunningham & Minister Albert & Lillian Simmons, Minister Thurman Johnson & family, Minister Gary Watkins & family, Mr.s Gwendolyn Williams & family, Ms. Lynell Reid & family, Mark & Stephanie Demeritte, Douglas & Shirley Storr, Sidney & Sarah Mackey, Wayne Johnson & family, Michael & Terricita Cunningham, Tyrone & Nora Davis, Patrick & Grace Watkins & the entire Gospel Light Baptist Church family, the community of Yellow Elder, especially the Dennis Court families: Mr. Robert Coakley & family, Mrs. Sabrina Smith & family, Mr. Ordrick Roberts & family, Ms. Pickstock & family, Mr. Kevin Archer & family, Ms. Beverly Worrell & family, Gaynell Higgs, Elmira Hunter, Sherry Whylly, Niel & Kenva Johnson & family, Gloria Williams & many others too numerous to mention.
Friends may pay their last respects at Demeritte's Funeral Home, Market Street, from 10-6:00 p.m. on Friday & on Saturday at the church from 9:30 a.m. until service time.