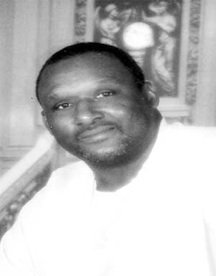 Tyrone Anthony Adderley
unknown - unknown
Funeral Service for the late Tyrone Anthony Adderley age 50 of # 17 Flamingo Gardens will be held on Saturday July 27th, 2013 at 1:00 p.m. at Christ Community Church, Bellot Road. Officiating will be The Rev. Dr. Deanza Cunningham assisted by other ministers of the Gospel. Interment will follow in Lake-View Cemetery, John F. Kennedy Dr.
Cherished Memories of Tyrone will always linger in the hearts and minds of those who love him, namely: Wife: Sophia, Son: Lachanto (Natalia), Adopted Daughter: Gabrielle, Mother: Mrs. Ruthmae Adderley, Mother-in-law: Mrs. Josephine Johnson, Sisters: Andrea Ferguson, Jewel McKenzie (Hindey) Carolyn Ward (Alphonso Sr.) & Charlene Adderley, Sisters-in-law: Laverne Dean (Henry), Stephanie Davis (Lionel), Marilyn Smith (Wellington), Janice, Mildred & Lisa Johnson Brother: Don Hall, Grandmother: Agnes Ferguson, Aunts: Myrtis Beneby, Thelma & Naomi Ferguson & Brenda Smith, Uncles: Osbourne, George & Roland Ferguson, Nieces: Lachelle Nash (Andrew), Tanaya Williams, Candice & Crystal Ward, Nerissa, Natasha, D'Andrea, Davina, Darnella, Jemika, Kiante`, Rolinda, Kenya, Seherinea, & Tia, Nephews: Chazaro Sturrup (Silver), Alphonso Ward Jr. Taran & Takaro McKenzie, Tavon Williams, Tavis, Billy, Lionel Jr., Shaqueille & Kishon, Grand Nieces: Davanya & Celina. Grand Nephews: Montel, Robantae, Anwar, Tridon, Tavis Jr. & Cayden. Other Relative & Friends: Dacoya McKenzie, Ivan Evans, Terecita Miller, Anthony Lightfoot, Michelle Seymour, Sylvia Hepburn, Atlantis Hotel Family:- Melanie Delancy, Warwick Brown, Knowlin Adderley, Debra Moss, Thisley Frasier, Maurice Lightbourne, Melbourne Johnson, Avan Wilson, Travis Stuart, Dennis Strachan, Romando Walkes, Christopher Alcy, Jamaal Bethel, Christopher Darling, Dwayne Duncanson, Samuel Forbes, Tyrekk Johnson, Jean-Claude Joseph, Dwight Major, Herbert Major, Kevin Munroe, Lex Newman, Carlton Storr, Dorothea Newman, Charmaine Hepburn, Denise Miller, Laniqua Ellis, Indianna Lynden, Latonia Miller, Veronica Gordon, Lynderia Rolle, Wyndham Hotel Family (Management and Staff), Sheraton Hotel Family, Christ Community Church Family.
Viewing will be held in the Legacy Suite of Vaughn O. Jones Memorial Center, Mt. Royal Ave. and Talbot St. on Friday from 11:00 a.m. to 6:00 p.m. and on Saturday at the Church from 12:00 p.m. to service time.