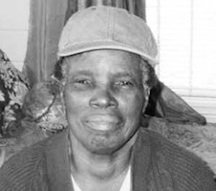 Dorothy Rolle
unknown - unknown
Dorothy Rolle age 78 years of Whites Subdivision, Kemp Road died on Saturday 15th, June, 2013 at Princess Margaret Hospital.
She is survived by her 4 Sons: Napoleon & Livingston (predeceased) Adderly, Stephen Rolle & Franklyn Ferguson; 3 Daughters: Barbara Adderley, Harriet Adderley (predeceased) & Tamika Ferguson; 2 Brothers: Joseph Bodie (predeceased) and Harcourt Bodie; 3 Sisters: Minnie Rolle, Naomi Bodie and Albertha Curry; 5 Grandchildren: Mornette & Leatte White, Dwayne & Wayne White and Bliss Ferguson and a host of other relatives and friends to be named at a later date.
Funeral arrangements are being handled by Evergreen Mortuary on Collins Avenue and 5th Terrace.