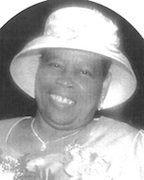 Sylvia Maria Collie
unknown - unknown
Memorial Service for Sylvia Maria Collie, age 73 years, of Pinewood Drive, Pinewood Gardens, will be held on Saturday March 9th, 2013 at 11:00 a.m., at St. Thomas More Roman Catholic Church, Madeira Street, Palmdale. Officiating will be Rev. Fr. Noel Clarke assisted by Deacon Dennis Mackey.
Precious memories will forever linger in the hearts of her son: Franklyn P. Rolle; grandchildren: Ashby, Jeremy, Jamal and Alexia Rolle, Michael F. Hall and Mickell M. Pratt; great grandchildren: Anthony, Nia, Haley and Zoey Hall and Dekaj Derek Pratt; daughter-in-law: Alice Rolle; son-in-law: Frederick W. Hall; grand son-in-law: Derek Pratt; grand daughter-in-law: Samra Hall; nieces and nephews: Gino Rahming (Karen), Bertram Rahming Jr., Sylvana, Jeanamaria and Alisha Rahming, Valencia Rolle (Winston), Antoine Dames (Leese) of Canada, Dwayne Dames (Bena) of West Palm Beach, Corporal 2199 Stacy Dames of Freeport, Ken Dames, Keva Moss (Michael), Kendra Dames, Hillard Walker Jr., Livingston Curry, Terrell Knowles and Quatoria Walker; numerous other relatives and close friends including: Anne Hall, Dorothy Butler, Nancy, Mrs. Sweeting, Mrs. Moss, Mrs. Kelly and the rest of the Pinewood family, Simeon Anderson of Freeport, Karen Brown, Brenda and Margaret Lightbourne, Ricardo Neely, Tom Jones, the Coakley family of Andros, the Hall family, the Seymour family, Ms. Valarie Wells Roselyn Dames, the Knowles family, Drexwell Rolle, Genieve Evans and her pets: Indie and Kilo and many others too numerous to mention.
There will be no viewing.
Arrangements are being handled by Butlers' Funeral Homes and Crematorium, Ernest and York Streets.