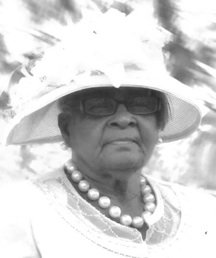 Rozelda Augusta Morley
unknown - unknown
Last rites for Rozelda Augusta Morley age 73 of George Town Exuma will be held on Saturday at 10:00 A.M. at St. Andrew's Anglican Church, George Town, Exuma. Officiating will be
Rev. Fr. Ethan P. J. Ferguson and Rev. Paulette M. Cartwright assisted by Catechist Raymond Carroll. Interment in St. Andrew's Cemetery, George Town Exuma
She is survived by Five Sons: Larry, Robert, Ricardo, Frank, and Franklyn Morley;
Two Daughters: Linda Munnings of Nassau, and Jane Morley;
Twenty Four Grand Children: Lakesha, Lakerria and Donald Munnings Jr. of Nassau , Tabitha, Shantino, Bianca, Terino, Cameron, Lajuana, Justin , Julian, Regina, Joette , Nikia, Raquel, Wilton, Whitney, Mario and Kevin of Exuma, Shawn, Ricardo, Arlington, Nicky and Shantell Morley of Freeport; Ten Great Grand Children: Dashinique Gibson of Nassau, Keishonn , Shania, Shaliyah, Dwaynica, Shantia, Terino Jr Atwezz, Naaman, and Ravachio;
One Brother: Demison Nesbitt; One Sister: Lovely Armbrister;
Forty Three (43) Nephews : Harry, Alfeus, Wendel, Carl, Joe, Elliot, Godfrey, Ricky,
Father Samuel Sturrup, Roscoe, Bernard, Franklyn, Suluke, Charlton, Opheris, Orlando, Franklyn, William, Kelson, Donny, Marcus, Fredddie, Theodore, Timothy, Lavardos, Franklyn, Deon, Kirkward, Douglas, Henry, Aron, Lucine, Charles, Edison, Phillp, Cordell, Corneilius Whitfield and Stanford; Thirty Seven(37) Nieces: Freda,Valerie, Claudette, Deliah, Sharlene, Pearline, Emerald, Cornell, Leonie, MaryAnn, Ena, Gina, Tina, Samantha, Mary, Antoinette, Pamela, Sandra, Karen, Marsha Peachie, Kaz, Phillippa, Nickie, Melbert, Jennifer, Betty, Winnie, Terry, Tanya, Monique, Alice, Crystal, Lauralyn Morley of Homestead Florida, Karen Rolle and Dot Butler; One Uncle: Freddie Morley; One son in law: Donald Munnings Sr.;
Three Daughters in Law: Janet Morley, Dotlyn Morley, and Myummy Morley
Three Sisters in Law: Ruth Cash of Eleuthera , Nathalie Aristide of Abaco, Angela McPhee of Freeport, Ula, Betty, Wendy, Sonia, Bernice, Mary Lou Morley, and Mary Fritzgerald
Eleven Brothers in Law: Creswell, John, Maurice, Douglas, Freddie, Cyril, and Daniel Morley, Edward Fritzgerald, George Cash, Opheris Aristide and Napier Armbrister.
Many other loving family and friends: Hon. Anthony Moss and family, Mr. Dwight Turnquest, Mr. Kevin Deveaux , Mr. Spence Borrows, Mr. Don Higgs, Ms. Marina Munnings, Mr. Vincent Bethel and family, Mr. Vernon Curtis and family, The Venerable Keith N. Cartwright, Hon George Smith, Mr. Daniel Major, Mr. Clifford and Milton Strachan, Mary Dames and family,
Mr. Luther Rolle, Rodney Rolle, Mrs. Rowena Clarke, Roland Ferguson, Shelia Curling, Laidline Maycock and family, Mr. and Mrs. Wayne Cartwright, Mrs. Genesta Lockhart, Mr. and Mrs. Hilton Pinder, Ms. Shelia McPhee, Mr. and Mrs Don Smith, Mr. and Mrs. Ricardo Curling,
Mr. and Mrs. Perry Brown, Shalene Brown, Meliane, and Magnola Morley, Ms. Angela Bethel and family, Mr. Cecil Newbold, Mr. and Mrs. Ken McPhee and family, Ms. Tina Gray, Bernadette Martin, Mr. William Nottage, Mr. Patuel Hart, Mr. Duke Gibson, Debbie Flowers, Makesha Newton, Wilton and Leslie Rolle, Mr. Patrick Symonette, The Maycock, Curling, Munroe, and Lockhart family of Ragged Island, Members of St. Andrews Anglican Parish, The Staff of Bahamasair and Sky Bahamas, The doctors and nurses of George Town Clinic and The Female Surgical Ward 2 , The entire Exuma Community and numerous others too many to mention.
The body will repose at Kurtiss Memorial Mortuary, Ramsey Exuma on Friday from 11:00 A.M. until 6:00 P.M. and at the church on Saturday from 9:00 A.M. until service time.