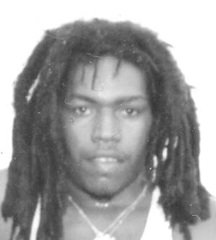 Sterling "Guts" Wilkinson
unknown - unknown
Funeral service for Sterling "Guts" Wilkinson, age 48 of East Street and Odle Corner will be held on Saturday 28th September, 2013 at 1:00 p.m. at Mission Baptist Church, Hay Street. Officiating will be Rev. Randy Hanna, assisted by other Ministers of the Gospel. Interment will follow in The Western Cemetery, Nassau Street.
Left to Cherish his memories are: His Children: Sterlander, Sterlena and Sterlencia Wilkinson; Grandchildren: Robert and Robertique; Brothers: Patrick and Tyrone Wilkinson of Trinidad; Sisters: Joan, Patsy and Joanna Wilkinson of Trinidad; Sister-in-law: Donna Wilkinson of Boston; Nieces and Nephews: Stephanie, Lindsay, Stephen Jr., Trevor, Gerard, Tony, Patrick Jr. and Matthew; Uncles: Oswald and Basil Greenslade; Aunt: Mimi Greenslade; Uncle-in-law: Dexter Armbrister; Aunts-in-law: Florence and Augusta Greenslade; Numerous Cousins including: Rev. Randy and Jackie Hanna; Karen and Jack Andrews, Don Miller, Atina Colebrooke, Sean Ward, Glendina Saunders-Brown of Miami; Malinda, Kino, Yvette, Jason, Osha, Austin, Demar, Marco, Deangelo, Fabian, Marquis, Brittany and Leonard Greenslade; Lionel and Marvia Rolle; Raquel, Trevor and Vaughn Armbrister, Mychela Brown, Tamara Seymour, Tiffany Strachan, Taren Andrews, Davon Saunders, Carltina and Carlos Colebrooke; Kayshala and Kade Taylor; Shaneka, Kerrell and Kinto Smith; Richard and Latoya Roberts; Kenneth and Kentino Nwankwo; Tania McNeil, Marva, Marvette, Lamar and Marcia Ferguson; Antonio, Ranardo, Randell, Rankeisha, Randy Jr., Rankera Hanna; Craig and Myesha of Miami, Fl; a Host of Other Relatives and Friends including: Olga Wilkinson, Glenda Wallace & family; Peggy Lundy & family; Carnie Saunders & family of Miami, Fl; Derek Johnson; Dion 'Yellow' Brown; Brendon Albury & family; Sherwin Johnson; Mark Clark; Freddie; Juliette Barnwell & family; Dorothy Sands & family; Dorothy Marshall & family; Mr. and Mrs. Mario Coakley & family; Marvin & Rona Gibson; Kevin & Prenell Greenslade and family; Pamela Williams & family; Drucilla Munnings & family; Barbara Bowe & family; Drucilla Rhodriquez & family; Iva Burnes & family; Ruth Braynen & family; Nelly Braynen & family; Kaydra Russell & family; Tracey Clarke-Ferguson & family; Nadine Mitchell & family; Mr. Lindor Johnson, Mr. Otis Rolle, the house of Nybinji, King of Kings Mission house and the Rastafarian community, Hospital Lane and Rupert Dean Lane crew and many others too numerous to mention.
The body will repose in the Blessed Redeemer Chapel at Ferguson's Funeral Directors, 7th Terrace Collins Avenue, on Friday from 10:00a.m. - 5:00 p.m. and at the church on Saturday from 12:00 noon until service time.