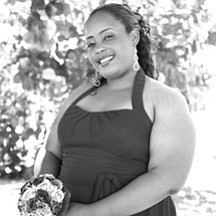 Shakera Synovia Rolle
unknown - unknown
Funeral Service for the Late Shakera Synovia Rolle, 32 years of Rolle Street, Fox Hill, will be held on Saturday December 27th, 2014, 10:00 a.m. at Church of God, Bernard Road. Pastor Sherelle Saunders assisted by Pastor Julia Bain and Pastor Daniel Hall will officiate. Interment will follow in Lakeview Memorial Gardens & Mausoleums, John F. Kennedy Drive & Gladstone Road.
She is survived by her Husband: Rubben Smith; Children: Robynn & Rayvnn and Latoya Smith (Step daughter); Parents: Beverley Rolle (Mother) & Lionel Rolle (Step Father), Spence Rolle (Father) & Stephanie Rolle (Step Mother), Gloria Lewis (Mother-in-Law), Ema Allen (Step Mother); Grand Mother: Edwina Smith; Sisters: Akera, Tiffany, Simone, Terinika, Latisa, Simone, Monique (Sister-in-Law) and Veronica Lewis (Sister-in-Law); Sisters-in-Law: Maurean Lewis- Sturrup and Pauline Yates
Brothers: Mario, Jamal, Mark, Spence Jr, Quincy, Rashad Woodside, Devon, Steffon and Steffen; Brothers-in-Law: Anale, Mark Yates and Ryan Anderson; Nephews & Nieces: Keemro, Sym'maya Rolle, Marquel, Mario Jr., Marquis, Marlyah, Jamal Jr. and Megan; Great Grand Aunts: Gwendelyn Clarke, Mable King and Marian Curry; Grand Uncles (Mother Side): Granville & Rolyston Mckenzie, Joshua Johnson (Tampa,F.L), Nathaniel Rolle, Wilfred Rolle, Charles Curry, Colen Curry, Kevin Curry, Pedro Curry, John Curry and William Curry; Grand Aunts: Sylvia McKenzie, Maxine Poitier, Sharon TCN & Lisa Mckenzie, Cleomi Saunders, Elsiemae Williams, Shirley John, Wendy Acureus,  Asst.Superiendent Janice Johnson- Smith, Nazel Johnson, Dean Thompson, Faye Major, Dr. Zoren Curry, Mary Curry and Angela Bullard; Uncles: Ricardo Johnson, Dwayne Rolle, Dwight Rolle, Perez Rolle, Pedro Rolle, Dwayne Rolle and Kyle Rolle; Aunts: Brenda Cooper, Michelle Johnson, Tiffany Johnson, Bernadette Rolle, Claudette Rolle, Shenique Rolle, Michelle Smith, Deborah Rolle, Arnette Roll, Joyann Rolle and Anya Rolle; Cousins : Kimberley, Sean, Alex, Darren, Stancia, Dion, Charles, Stanley, Antonio, Bridgette, Shenice, San Franciso, Leonardo, Theadata, Almondo, Alfredo, Rochelle, Tiffany, Andrew, Sean, LaQuinta, Antoine, Royanne, Brittany, Marquese, Dr. Keino Johnson & Jill, Angela, Sherelle,  Domonique, Krishell, Lateishae, Jamal Jr, Olivia, Nicholas, Ava, Isadora, Aurelio & Relio, Pastor Sherelle, Eugene, Walter, Lester, Mellessian, Kevin, Dion, Marvin, Alvin & Ernest, Swithen, Burcurdette, Burkise, Bernadette (WPC 3398), Moniquekar, Michael, Kenyatto, Keishla, Anishka, Valencia, Wendette, Wendira, Victor & Vino, Shamara, Gabriel, Van, Shanette, Sherelle, Roosevelt John Jr, Sandrian & Tom (Port St. Lucie), Alliston & Jan (New York, NY),Vonsetta & Sanford. Other Relatives: Mr & Mrs. Lester Turnquest, Hon. Fred Mitchel, NCA Graduating Class of 2000, Management & Staff of Melia, The Beauty Shack, The Hit Spot, Oxford Law Chambers, Riu, Willinemina Dillet & Family, Sharanique Miller & Family, Tiffany Fox, Fredricka, Kevin Woodside & Family, Lionel Rolle, Dutches Rolle & Family,  Mirda Syrion & Family, Kim Bodie & Family, Darren Sturrup, Elmore Anderson, Dolice McKenzie & Family, Market Place, Judy Sands, Shakera Jones & Family, Sam, Orrie Allen & Family, Megan Virgil & Family, Desiree Sawyer & Family, Virginia Allen & Family, Pascal Ranvo & Family The Davis, The Thompson, The Wilson, The Bain, The Brown, The Demeritte, The Bastian and Wright families, and the Fox Hill Community.
Friends may pay their last respects at Bethel Brothers Morticians, #34 Nassau Street on Wednesday from 10:00 a.m. to 1:00 p.m. and on Saturday at the church from 9:00 a.m. until service time.