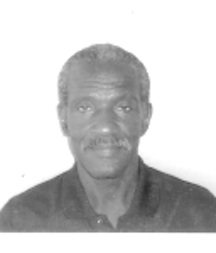 Oscar Wallace
unknown - unknown
Funeral Service for the late Oscar Wallace age 71 of Plam Beach , And formally of Mars Bay Andros will be held on Saturday febuary 01st , 2014 at 2:30 p.m. at St. Barnabas Anglican Church, Wullf and Baillou Hill roads. Officiating will be Canon Basil Tynes assisted by Fr. Donald Kerr. Interment will follow in St. Barnabas Cemetery, Homestead Street.
Left to cherish precious memories are: his devoted wife: Nezline Wallace; sons: Stanley and William Wallace;
daughters: Malvina, Lily Latoya Wallace, Oslene Wallace Robinson, Sharon Thompson; adopted daughter:
Angela Ferguson; son-in-law: Edvardo Calderon, Ainsley Robinson, Deron Thompson; daughter-in-law:
April Wallace; sisters-in-law: Nadine & Magnoila Munroe, Dily Wallace, Dora Andrews, Gertrude Daxon,
Petrona Wilson, Glenda Mae Williams; grandchildren: Anthony, Johnathan, Leon, Shenique, Tevin, Tamara,
Tia, Tanika, Avia, Aliesha, Akio & Kevon Wallace, Wilshire & Nadia Beneby, Toyika Grey, Darcell
Rahming, David Douglas Jr., Patsy Brenen, Alexandria & Edward Wilson; great grandchildren: Ashinique,
Edward & Leon Jr., Tavarieo, Trey, Ashton, Alexio Sani, Edricka & Johnathan Wallace Jr., Miltia & Janyia
Brenen, Mark Wilkinson, Mankai Wilshire, Malik Beneby, Kaiya Earns; Nieces: Monique Saunders, Marcia
Wilson, Marsha Cleare, Ieshia Bain, Tyronique Daxon, Jacqueline Wallace Johnson, Elizabeth, Leila Curry,
Annett Wallace, Laverne, Dionne, Raquel, Eldora McKenzie, Theodora McKenzie Major, Pam Hanna,
Paulette Murray, Helen Greene Smith, Reane Mather, Monique Barr, Lakera Sweeting, Shantell, Tamika
Andrews, Lakeisha Andrews Malcolm, Maureen, Princess & W.R.C. 734 Darlene Taylor, W.R.C. 755 Letisha
Williamson; Nephews: Clyde & Leonardo McKenzie, Washington Wallace, William Curry, Cleveland,
Andrew, Collin & Peter Rolle, Mitchell & Dominique Wilson, Sheman Rolle, Deon, Kevin, Desmond and
Ricardo Andrews; other relatives and friends include: Santina Davis & family, Estelle Grey & family, Mary
& family, Jenny & family, The Meadows family, The Collie family, The Mackey family, The Nixon Family,
The Ferguson Family, Cartwright's Building Supplies and family, Charles Louis & family, The Braynen family,
The Staff of Princess Margaret Hospital and Atlantis Room Service Royal Towers.
Viewing will be held in the Legacy Suite of Vaughn O. Jones Memorial Center, Mt. Royal Ave. and Talbot St. on Friday from 11:00 a.m. to 6:00 p.m. and on Saturday at the Church from 1:30 p.m. to service time.