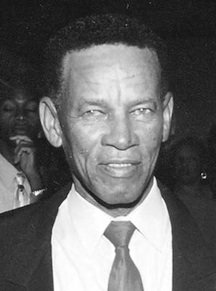 Shervin Alvin Smith
unknown - unknown
Memorial Service for Shervin Alvin Smith, age 70 years, of Long Island, will be held at Burnt Ground Gospel Chapel, Burnt Ground, Long Island, on Saturday February 1st, 2014 at 10:00 a.m. Officiating will be Pastor Linward Knowles.
Left to cherish his memories are his mother: Muriel Smith; his wife: Loregis Smith; his sons: Quenton "Ellie" Smith and James "Docky" Smith; his daughters: Sandra Knowles, Faye, Tamika and Chakera Smith, Renata Farquahson and Tameka Rahming; granddaughters: Nikira and Nikia Knowles, Tanovia, Quintere and Ana Smith, Kaleah Penn, Soniya Fenelus, Cierra Celine and Cianna Farquahrson and Christenique Rahming; grandsons: Rashad Knowles, Eldred Cordell, Quentino, Diego, Quentin, Queino, Isaiah and Jamie Smith, Corban, Christian and Caleb Rahming; great grandson: Travis Wilmott Jr; great granddaughters: Shylah and Tiana Smith; daughter-in-law: Jill Smith; brothers: Eral "E.T." Smith and "Mama Cow" Louis Smith; sisters: Rowena Gray, Zelma and Elva Smith; sisters-in-law: Joyce, Coral, Lisa and Synthia Knowles, Winifred Evans, Jackylnn Rahming and Verlene Smith; brothers-in-law: Locksley, Linward and Ural Knowles, Cedrick Gray and Sandril Evans; nieces: Yvette, Larissa, Paulette, Lynette, Kenna, Marcia, Lynelle, Patrika, Ruscia, Lavern, Shelia, Charlene, Sherry, Marsha, Malinda, Meranda, Leante, Kinadia, Myra, Breanna and Jevina; nephews: Linward Jr, Latori, Cranston, Locksley II, Glenn, Gregory Cleophas, Ricardo, Wade, Adrian, Mark, Patrick, Craig, Brent Cedric Jr. Marcian, Kevin, Kristan and Mali; numerous great grand nieces and great grand nephews; other relatives: Aunt Ophelia Smith and Family, Willard Gibson and Family, Rueben Gibson and Family; Family of the late: Blanche Edgecombe, Garnett and Maggie Gibson, Emily and Hubert Simmons, Beatrice Pratt (O'Neal's), Otis and Eva Smith, Leonard and Ignos Smith, Edith and Thomas D Smith; friends: The entire Free National Movement Party, Hon. Loretta Butler M.P. and Family, Mario Simms and Family, Scofield Miller and Family, Joerg Friese and Family, Sylvia Scriven and Family, Dr. Robin Roberts, Nurse Spence and Staff at the Simms Clinic, Taxi Drivers, Staff of Stella Maris Resort Club, Staff of Cape Santa Maria, Stella Maris Airport Family, National Insurance, Pastor Bob and The Tabernacle of Mercy Members, Elma Knowles and Family, David Glinton and Family, Latoya Walker-Smith, Shakeil Adderley, Fiona Richards, Maxwell Adderley and Family, Delbert and Larry Cartwright and Family, Scotia Bank Family, Freddy Adderley and Family and Members of Beulah Baptist, Members of Burnt Ground Gospel Chapel, Members of Cartwrights Church, Administrators Office and Post Office in Simms, Beverley Larrimore, Nurse Swift at P.M.H, Dr. Patrick Rolle, Anishka Smith, Denzer Adderley and Family, Br. Ezekil Adderley and Family, Br. Dudley Lightbourne, Mike Lightbourne, Eugene Moree, Dr. Lohn, Emily Smith and Family, Jordon Ritchie, Yvonne, Bruno and Barbara and Family, Petra Morley Williams, Craig Knowles and Family, Administrator Hart, William and Irene and Family, Nathan and Nancy Parker, Anthony and Deborah Poitier, Godfrey Grey and Family, Sonny Fenelus and Natasha Cartwright and many others.
There will be no viewing.
Arrangements are entrusted to Butlers' Funeral Homes and Crematorium, Ernest and York Streets.