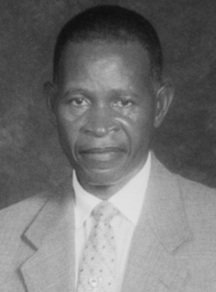 Prince Albert Forbes
unknown - unknown
Funeral Service for the Late Prince Albert Forbes, age 80 years of #55 Ferguson Road, will be held on Friday July 18th, 2014, 10:00 a.m. at New Destiny Baptist Cathedral, Baillou Hill Road. Bishop Delton Fernander will officiate. Cremation will follow.
He is survived by his Wife: Elizabeth; Children: Daughters: Anita McPhee, Deborah Cartwright, Jacqueline (Anthony) Longley, Lorraine Arnett, Denise Ferguson, Simone (Gary) Rahming, Gano (Preston) Hepburn, Beaulah, Catherine (William) Pratt, Donna Smith (Owen Harris), Heather (Clinton) Sands and Marie McCartney; Sons: Prince (Janeise) Forbes, Michael (Shi) Forbes, Leroy Forbes, Ricardo Forbes, Robert Forbes and Sean Arnett; Brother: James (Agatha) Thompson; Sister: Sherry Thompson; In-Law: Ada Forbes; Nieces: Sharon, Darlene, Rochelle, Lisa, Diana, Arlene, Jennifer, Nicola, Nadia and Hestine; Nephews: Godfrey, Bradley, Livingstone, Keith, Mottie , Chris – Jimmy kids, Stephano, Barry, Alfred and Ricardo; Grandchildren: Achara, Antaniece, Antonia, Alissa, Kelia, Phillipa, Quincy, Quinton, Antonio, Kent, Davardo, Mario, DevVanyo, Tahj, Tah-Shawn, Alexander, Andrew, Clinton, Leroy, Nakara, Sannia, Richa', Randy, Tamiko, Antonia, Fazzy, Leonardo, Justin, Lothario, Videl, Sharane, Shakira, Kevado, Tiesha, Antonio, Kendrick, Prince, Amrulka, Yulanda, Mario, Paige, Megan, Tracy, Renaldo, Nathaniel, Damian, Trey, Annacelia, Randal and Anna; Godchildren: Rena Whymns & Family and Autumn Patton; Cousins: Leo & Rita Douglas & Family, Robert & CJ Douglas & Family, Elgin & Earnstine Douglas & Family, Thomas & Silvia Bastian & Family, Dr. Chou, Gloria, Barbara, Eula & Family. Other Relatives & Friends: Angela Constantine & Family, Philip Constantine & Family, James Talis, Leslie Major, Rita Ramsay & Family, Inga Morris & Family, Delores Culmer & Family, Janice Enzebawn & Family, Philip Bodie, Cynthia Davis, Stafford Cooper, Karen Moxey & Family, Julius Darling & Family, Former Asst. Superintendent Livingstone Bevans, Jonathon Woods, Iko Patton, Lethria Capron, Kimberley & Kevin Sherman & Staff, Flo & Margo Miller & Family, Community of San Salvador, Bishop Delton & Mrs. Calpurina Fernander & New Destiny Church Family, Rubis (West Bay), Dr. Leo, Dr. Duane Sands, Dr. Graham Cates, Purity Bakery Management & Staff, Coca Cola Management & Staff, Florabell Walker, Ruth Forbes & Family, Eulese Rahming & Family, Brontis Adderley & Family, Ada Forbes & Family, Florcita Nottage & Family, Betty Adderley & Family; and many others too numerous to mention.
Friends may pay their last respects at Bethel Brothers Morticians, #34 Nassau Street, on Thursday from 10:00 a.m. to 6:00 p.m. and on Friday at the church from 9:00 a.m. until service time.