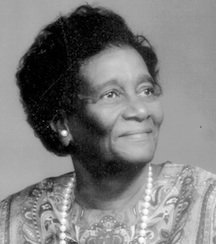 Julia Elizabeth Thompson (nee Archer)
unknown - unknown
Funeral Service for the Late Julia Elizabeth Thompson (nee Archer), age 93 years of Claridge Dale Gardens and formerly of Marsh Harbour, Abaco, will be held on Saturday June 21st, 2014, 9:00 a.m. at St. Georges Anglican Church, Montrose Avenue. Archdeacon Kingsley Knowles and Fr. Timothy Eldon will officiate. Interment will follow in the Western Cemetery, Nassau Street.
She is survived by Seven Children: Elizabeth Louise Collins of Freeport Grand Bahama, Eloise Gertrude Jones of Fort Lauderdale, Donald Ernest Thompson, Stephanie Rosamond Ritchie, Maitland James Thompson, Kenyon Ormond Thompson and Linda Ann-Marie Thompson; Sons-in-law: Vincent Ritchie Jr. and Peter Collins of Freeport, Grand Bahama; Daughters- in-law: Winnifred Thompson, Ellarese Thompson and Shayne Thompson; 31 Grandchildren: Patrice Lockhart, Pamela Michelle Thompson,Lisa-Ann Thompson, Tremmie Thompson, Sheena Carroll, Bertis Valentino, Marlon Grant, Jermaine, Arthur Jr, Keith, Justin, Ryan, Tori Thompson, Godina, Alana, Raedawn Thompson, Latina Newsome of West Palm Beach; Florida, Faythe Ferguson, Julia Jullion, Taylor Ferguson-Gaye, Deniece Hathaway, Donell Hardy of Boston Massachusetts, Chad Thomspon, Maitland Jr, Tishka Thompson of Fort Lauderdale, Tameka Murray of Miami Florida, Megan Thompson, Lia-Alexis Ritchie, Rashad and Rasean Rolle; 56 Great-grandchildren; 12 Great-great grandchildren; Nieces and Nephews: Sandra Major, Paulette and Steven Humes, Karen and Michael Belfield, Lauren and William Higgs, Claudette Allens, Eugenie and Phillip Francis, Natalie and Kristin Salvant, Celeste and Fletcher McIntosh, Anthony Allens, Cecil and Pamela Allens, Alexandria Allens, Mitchell Allens, Wellington Bain, Sheila Thomas, James Bain, John Bain, Jasmine Bain and Cynthia Neely. Other relatives and friends, including: Mildred Sands, Sybil Archer, Nelly Woods, Blanche Moss-Allen, Rosemary Williams, Donald and Howitt Moss, Dr. Locksley Munroe, the Archer, Campbell, Roberts and Hudson families, Louis Hanchell and the St. Georges Church Family.
Friends may pay their last respects at Bethel Brothers Morticians, #34 Nassau Street on Friday from 10:00 a.m. to 6:00 p.m. and on Saturday at the church from 8:00 a.m. until service time.