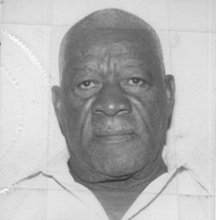 Gilford "Popcorn, Dr NoGo, Cracker, GrandPa" Saunders
unknown - unknown
Funeral Service for the late Gilford Saunders affectionately called "Popcorn" "Dr NoGo" "Cracker" "GrandPa" age 81 years Of #23 Oxford Avenue off Blue Hill Road and formerly of Mastic Point, Andros Island will be held at 1 p.m. on Thursday, April 3rd, 2014 at The New St. Paul's Baptist Church, Blue Hill Road and Bias Street, Nassau, Bahamas. Officiating will be Rev. Dr. Robert Colebrooke assisted by Rev. Dr. Dolly King & Apostle George Fowler. Interment will follow in The Public Cemetery, Mastic Point, Andros, Bahamas.
Predeceased by his parents: Rudolph and Mary Saunders and son: Leon Saunders.
Precious Memories will linger in the hearts of his Wife (CL): Estell Swain, One Daughter: Sandra Gardiner, one son: Gilford Saunders Jr., One Step-Son: Ronnie Charlton, One Son-in-Law: Godfrey Gardiner, One Daughter-in-Law: Cassandra Saunders, Grand Children: Symphony & Braxton Gardiner, D'Andra & Leendra Saunders, Toro, T'Orra, Tamaka, Thia & Gilbert Saunders Jr., Kaziah & Kristen Rolle. Brothers: Arthur, John, Deacon Wellington Saunders and local Constable 404 Felix Saunders of Mastic Point, Andros, Sisters: Mrs. Vezel
Gibson of Mastic Point, Andros and Miriam Johnson of Freeport Grand Bahama. Nephews: Abner and Leon Saunders, Kelsey and Jefferson Cox, Bishop George Fowler, Corporal 192 Stephenson Gibson, Constable 849 Wellington Saunders II, Wellington Saunders III,Theo, Torriano, Synpvio Saunders, Wildon Jr. and Christopher Saunders, Dexter, Shazaray, Deanglo Saunders, Able Seaman Livingston Saunders, Maurice, Billy, Chris, Jaron, Wayne and Mark Johnson, Arthur Jr., Ricardo and Trevor Saunders, Marvin Johnson, Troy Johnson, Simeon and Ricardo Cox, Ceryl Mackey Sr., Ceryl Mackey Jr., Tarran Mackey, Leonardo Wright, Robert
Merritte, James Dean, Alphonso Munroe, Clarence and Lawerence Fritz, Tevin Fritz, Khail Grant, Nieces: Annalee Antanor, Loretta Dean, Hazel Williams, Sheryl Rodgers, Carla, Tasha, Shekeria, Santarik and Dora Saunders, Yvette Symonette, Elizabeth Fowler, Autherine Gibson, Erica, Juanita, Stacy, Daphane, Tiffany, Meridith Johnson, Rapunzel Saunders, Karen Higgs, Shanell Higgs, Miriam Mackey, Ketorra Davis, Tanicka, Tanisha, Alisha, Anasthia Mackey, Syntyche Fritz, Cheryl Dean, Clarissa Brice, Latiesha Thurston, Melissa McKinney, Sharnika Fritz, Brenell Gray, Hilary McHardy & Ruth Munroe, Christine. Aunt: Louise Colebrooke, Sisters-in-law: Oralee, Christine, Jane Mae, Ena and Sandra Saunders, Celetha Dean, Miriam
Merritte and Emerald Roberts of Hollywood Florida, Evelyn Barr. Good Friends: Arthur Woodside, Andrew Longley, Glen Martin, Rev. Rollins, Randolf Campbell "La La", Butch. Cousins: Francita Wilson & Family, Rulolph Saunders, Edward and Vernal Earns & Family, Glenroy and Wenzel Martin, Constable 966 Erlin Wilkinson, Constable 716 Curtis Scott, Florinda Williams, Christine Butler, Patsy Wilkinson, Rev. Savaletta Fowler, Sherry Gibson, Jackie Saunders and Charmine Johnson, Touray Rodgers and Max Antanor, Loria Lightbourne and Family, Pastor Dolly King, Superintendent Clement Lightbourne, Inspector Philip Lightbourne, Avis, Ruth, Cheryl, Alrena and Melva, Loria Lightbourne, Arthur Colebrooke Jr., Stephen Colebrooke, Rev. Robert & Tanya Colebrooke, Minister Dwight Colebrooke, Judy and Sharon Colebrooke, Elder Delano Knowles, Elder Deloris Ferguson, Essileana Gaitor and family, Cleveland Goddard, Dora Culmer and family, Bishop Everett & Mrs. Maurene, Baillou and family, Wendy Russell and Pauline Evans and Family; A Host of Other Relatives & Friends: The Management & Staff of Symphony's Aluminum & Vinyl including Ferlesa Cleare & Family, Beaundra Grazette & family, Audley Wallace-Sears & Family, Taino Bullard & Family, Barry Pinder & Family, Lavard Smith, Kenneth Williams, Lavette & Barette Smith, Conesha Knowles, Ebony Bullard, Mercinth Henry and Family, Lynden Tinker & Family, Joseph and Rosalie Major, Melvina Pratt and Family, Norman Hinzey and Family, Ken Tracey, Joyce Drakes and Family, Henry Henchell and Family, Anthony Bridgewater and Family, Chris Tucker and Family, Tyisha Mackey and Family, Kirkyln Collie and Family, Andrew Aitken "Double A", Destiny, Latisha Farrington & Family, Sabrina & Morgan Graham & Family, Tina & Marvin D'Haiti, Lunear & Deloris Augistine, Beverly Ford, Rose Sears, Brian & Stacey Baker, Janice, Bessie and Van Johnson & Family. The Darville Family, The Paul family and Debra Smith, The Oxford Avenue Family, Mastic Point, Andros Family, Management & Staff of BTC, Nassau Ready Mix, The Hinzey Family of Love Hill, Gibertha Gaitor, Ruth Russell, Essie Gaitor, Vera Brown, Antionette Williams, Melcine Dorsette, Maud Romer, Rev. Lewis Adderley, Mildred Canter, George Turner, Alburn Rolle, Rev. Doris Tinker, Rev. Carl Oliver, Rev. Prince Mackey, Rev. Samuel Fowler, Rev. Basil Martin, Glenroy & Anthony Martin, Mavis Johnson, Joshua Russell, Shanton Martin, James Oliver, Rod Colebrooke, Antonio McKinney, Katie and Veronica Rolle and Willard Saunders, Treco Saunders, Synovia Saunders. Dudley Saunders & Family, Evelyn Gould, Henson, Larry & Lawrence Saunders, Arthur Woodside & Family.
Viewing will be held in the Celestial Suite at Restview Memorial Mortuary and Crematorium Ltd., Robinson and Soldier Roads on Wednesday, April 2nd, 2014 from 10:00am to 6:00pm and at the church on Thursday from 11:30am until service time.