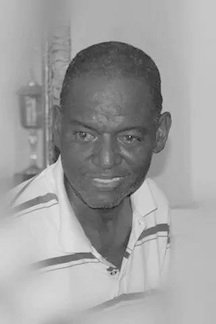 FRANCIS ANTHONY McSWEENEY
unknown - unknown
Funeral Service for MR. FRANCIS ANTHONY McSWEENEY, age 55 years of Christie Avenue, Stapledon Gardens, Nassau, New Providence and formerly of Dunmore Avenue, Chippingham will be held on Saturday, October 25, 2014 at 10:00 a.m. at St. Francis Xavier Cathedral, West Street, Nassau, New Providence. Officiating will be Father Glen Nixon. Interment will follow at The Catholic Cemetery, Infant View Road, Nassau, New Providence.  
Fond and precious memories will linger in the hearts of his father: Rudolph Anthony McSweeney Sr.; sisters: Kolamae McSweeney-Pedican and Theresa McSweeney-Mackey; brother: Rudolph McSweeney Jr. and Jason McSweeney; sister-in-laws: Tamica McSweeney; brothers-in-law: Patrick Pedican and Stephen Mackey; nieces: Sharell McSweeney, Andrea McSweeney, Felicia McSweeney-Burrows, Katarina Sawyer, Katriona Gilbert, Patricia Pedican Charlton, Megan Mackey, Malissa Mackey-Wilson; nephews: Rudolph Pedican, Stephen Mackey Jr. and Miguel Mackey; nephews-in-law: Owen Burrows, Ashley Wilson and O'Neil Charlton; grandnieces: Shanae and Amiah Forbes, Tamar Gilbert and Kaylan Moree; grandnephews: Lamono Johnson and Liam Burrows; aunts: Mariam Smith Bradford (Daina, Fla), Hyacinth Rolle, Naomi Chase Alexander, Inez Evans, Masie Smith, Wendy Smith, Cordella and Terricta "Terry" Chase, Avis Sands, Juliette Mackey, and Annette McSweeney and Bernice Adderley; uncles: Arthur Roberts, Gracian Sands, James, JohnGlen and Edward McSweeney, Vernal Elliot, Wendel Evans and Leonard Chase; godfather: Sir Arthur Foulkes and a host of other relatives and friends including: Keith McSweeney, Dr. and Mrs. Tyrone "Butch" Bartlett Joycelyn Munroe, Warren Sawyer, ohn  and Lester Bowleg, Mable D. Gardiner, Dorothy Lunn, Esther Curry, Laura Rolle, Charles and Marjorie Kemp, Verdel Pinder and, Constance Mackey and family, Sharon and Denis Delancy and family, Dr. John and Philip Carey, Gary and Larry Braynen, Deidre Knowles, Michael and Ian Ford and Ingrid Ford Knowles, Nester and Indy Sands, , Stephanie and Terrance McSweeney, Carmel Jennings, Urica Johnson, Sharlene Gardiner-Harris, Charisse Gardiner-Jones and Charles Gardner, Nicola, Patreka, Deidre, Elaine and Christopher Hall, William, Jeffrey, Anthony and Stephen Lunn, Abby Major, Gerald Bowe , Kelton Humes, Lamono Johnson, Ariel and Amair Lowe, Adrianna Hanna, Ms. Lavern Butler LaShell Bethell and Mable Shephard, Denise Reid. Andrew Turnquest, Tonya Adderley, Charles Albury Carl Bethel, Jeff Brown and family The Thompsons at Gregory Town, Eleuthera; The Staff at Chippingdale Furniture, The Staff at T.A. Thompson; The Staff at Urban Renewal Commission, Sac Classes of 1975,1973, 1974 and St. Andrews' Class of 1975, the Church Families at St . Francis Xaviers' Cathedral, Temple Fellowship International, The Chippingham Community, The Stapledon Gardens Community, The Roots Junkanoo Group, Dr. Getrude Holder and Dr. Bimal Francis.
Viewing will be held in the "Perpetual Suite" at Restview Memorial Mortuary and Crematorium Limited, Robinson and Soldier Roads on Friday from 10:00 a.m. to 6:00 p.m. and at the church on Saturday from 8:30 a.m. until service time.