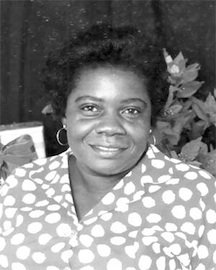 Geneva Rolle Ferguson
unknown - unknown
Funeral Service for Apostle Geneva Rolle Ferguson. age 65 of Caspian Road and formerly of Smith's Hill, South Andros will be held on Saturday October 26th, 2014 at 11:00 am at Temple Fellowship Ministries , Davis Street off Thompson Blvd. Officiating will be Bishop G.Elton Major assisted by other ministers of the gospel . Interment will follow in Woodlawn Gardens, Soldier Road.
She is survived by her daughters , Prophetess Jessie Mae Forbes and Patricia Higgs; grandchildren: Paulette Mcphee, Janice Bullard, Shanteia Storr and Janell Bullard great-grand children : Charity Watson, Omarion Watson, Aston Storr Jr and Keith Forbes Jr ;one brother, Roosevelt Rolle ; son-in-law: Prophet Charles Forbes and Phillip Higgs; sisters-in-law: Prayer Warrior Ginger Rolle and Geneva Rolle; brother-in-law: Herman Kelly;Grand-son-in-law: Aston Storr Sr. nieces: Cheakita, Shantol, Amanda, Indera, Janice, Indi, Tiffany, Diana, Michelle, Laverne, Media, Oralee, Dephanie and Anaspacia; nephews: Valentino, Brett, Zhavigo, Brain, Macks, Amos, Shawn, Kendall, Quentin, Dario, Don, Quentie, Michael, Javan, Franklyn. Terrance, Toreko, Alfred and Raymond;A host of other relative and friends including: Omar Watson, Keith Forbes, Bishop G. Elton Major & Family, Garnet Cox, Janet Bain, Mervin Tynes Cleora Pratt, Prophet Elleston Smith, Steven Moxey, Linda Moxey, Princess Pratt, Betrum Moxey, Sheva Bain, Maria Rolle & Family, Apostle G. Anthony Chishom & Family, Prophet Trevor Stubbs, Prophet Kirkwood & Frist Lady Kelly Murphy, Pastor Elizah & First Lady Clyda Ferguson of Andros, Vernell Deveaux, Ivie Humes, Audrey Sherman, Elsean Mackey & family, Sheniqua, Vashenique, Sue Green, Hanna & Family, Mell McDonald & family, Susan Rolle, Keran Kingslie, Bastian & Family, Isaiah, Dion Adderley, Lawyer Lincoln Bethel, Coretta Moss, Telsean, Byan & Jennifer Dean of Freeport, Ethelyn Arnett & family, Obediah Bullard, Scott -Richards, Dr. M. Spencer, Joey & family Noralie Cartwright & family and a host of other relatives and friends to numerous to mention.
Viewing will be held in the Legacy Suite of Vaughn O. Jones Memorial Center, Mt. Royal Ave. and Talbot Street on Friday from 10:00 am to 6:00 p.m. and on Saturday at the church from 10:00 am to service time.