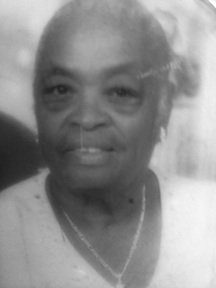 Whelma Anges Brown
unknown - unknown
Funeral service for the late Whelma Anges Brown age 73 of Sea Breeze Estates will be held on Saturday, October 25th 2014 at 10:00am at New Dimension Church of God, Joe Farrington Rd. Officiating will be Bishop Charles D. Johnson assisted by Bishop Victor A. Johnson. Interment will follow in Woodlawn Gardens Cemetery, Soldier Road.
Loving memories will linger in the hearts of her Daughters: Lorrie Brown and Annette Brown Sons: Valentino Brown of New York and Leonard Brown Sister: Eloise Smith Brother: Leslie Adderley Grand Children: Miguel Deveaux, Lauriell Knowles Daughter-In-Law: Caroline Brown of New York. Sisters-In-Law: Ruthmae Meadows, Cynthia Brown, Christina Trody Smith of Miami, Florida, Janette Adderley. Brothers-In-Law: Wendell Brown, John Meadows. Aunt: Bernice Robinson Nieces: Rev. Deborah Johnson, Bridgette Hunter, Suzette Adderley, Sheena Bethel, Monique Clarke, Lorraine, Sonia, DeShanne, Sherrell, Sherese & Latania Smith, Rev. Karen Butler, Lerneisa Scott, Monique, Sadaiska & Stacy Adderley, Julie Ann Flowers, Edith Sands, Dianne Bennett, Charlene Green, Johnell Meadows, Cabrina Colebrooke, Nikita & Shazelle Brown and Brittany Bethel. Nephews: Dr. Charles Johnson, Kennets Rolle, A.S.P. Andrew Hunter, D.M.us, & Larry Hunter of Fort Lauderdale (Plantation), Florida, Leemorn Smith, Marvin & Dwight Adderley, Charles & William Green (Bobby & Billy), John II & Mario Meadows, Harry Brown, Nepheaus, Marcellus & Ricardo Brown, Lorenzo & Anthony Flowers and Valentino Brown and Eddison Adderley Jr. God Children: Mario Meadows, Christine Munroe, Karen Butler and Sherrell Smith. Cousins: Nancy & Richard Ellis & Family, Yvette Bethel & Family, Beverley Finley & Family, Pastor Valderine Pinder & Family, Julie Moxey & Family, Alice Johnson & Family, Carrie Simms & Family, Rowena Smith & Family, Carmen Adderley & Family, Roosevelt Nixon & Family, Neville Nixon & Family, Carl Bethel & Family, Pastor Lyall Bethel & Family, Terry, Harry, Patrick & Warren Bain & Families, Jennifer Ellis & Family, Colliemae Ferguson & Family, Kiarge Smith, Ingrid Nixon, Eutherpie Bain & Family, Emerald Nixon & Family, Donnie & Jermaine Flowers & Family. Winnie Moss & Family, Adam Mackey, Karen Jarvis, Jestina, Dwayne & Eddie Bain & Families, Delores Ingraham & Family, Nicole Campbell, Majorie Maycock, Alecia Ward, Anthony, Andrea & Althea Brown, Verlese Adderley & Family. Numerous Relatives & Friends: Shelly Woodside, Lorraine Williams, The Woodside & Russell Family of Freeport, Grand Bahama, Neville & Wayde Bain, The Bain Family, Sophia and Courtney Sands, Delrado Burrows, Paula Meadows, Chloe Capron of Turks & Caicos Island, Peggy & Avery Williams, Edith Minnis & Family, Perry Smith & Family, James Moss & Family, Margaret & Blanch Sweeting, Barbara Rodgers, TaQueshia Knowles, Gloria & Erica Glinton, Sharon Taylor & Family, Sandra Meadows & Family, Peter Meadows, Michael Deveaux, The Deveaux Family, Stephanie Sargent & Family, Charlene Bethel & Family, Elvis Roberts, Lester Turnquest, Maria Kelley, Marjorie Gibson, Cynthia Knowles & Family, The Bastian Family, Shonice, Shonton & Shonelle Rodgers,Anthony Hinds, Delores Lightbourne, Tonya Green, Shawn Gordon & Natasha Seymour, Nadine Beneby, Louella Bowe, Adrian Mackey, Management & Staff of Murrio Ducille Chambers, Rev. Jeffery Francis, Family & Friends of Little Farmers Cay, Exuma, New Solid Rock Church of God, New Dimension Ministries, The Sandilands Village Family, Sidnell Cox & Allison Mackey and a host of other relatives and friends to numerous to mention.
Viewing will be held in the Serenity Suite at Restview Memorial Mortuary & Crematorium Ltd, Robinson and Soldier Roads on Friday October 24th from 10:00am to 6:00pm, and at the church on Saturday from 8:30am until service time.