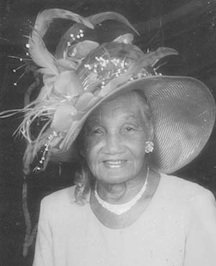 Ellen "Helen" Albertha Saunders
unknown - unknown
Funeral service for
Ellen Albertha (Helen) Saunders, 93
a resident of East Street South & formerly of Duncan Town, Ragged Island, will be held at B.C.P.O.U. Hall, Farrington Road, on Sunday, 26th October, 2014 at 11:00 a.m.  Ofrficiating will be Evangelist Omar St. Albord.  Interment follows in Woodlawn Gardens, Soldier Road.
Left to cherish her memories are her 1 son: Marcus Moxey; 4 daughters: Florence Clyde, Martha Saunders, Vernita Green & Edith St. Albord of Freeport, Grand Bahama; 7 adopted children: Julie, Terry, Therese, Kenny, Kevin, Keith of Houston, Texas, Tangerine & Gamblin Blue Curry of London England; 1 sister-in-law: Alfreda Saunders of George Town, Exuma; 3 sons-in-law: Lawton Nathaniel Clyde, Omar St. Albord of Freeport, Grand Bahama & Timothy Green of McQueen's Cat Island; 1 daughter-in-law: Reba Moxey; 7 sisters: Enid Lockhart, Genesta Lockhart, Verlina Maycock, Veronica Pintard of Freeport, Grand Bahama, Florinda  Hepburn, & Sheila Curling of Ragged Island  Kathy Coleby; 2 brothers: George Lockhart & Antonio Lockhart; 1 adopted brother: C.J. Baptiste; 2 god children: Barbara Bain & PC #750 Tiffany Evans; many grandchildren including: Tina, Antoinette, Monique, Maxcine Roxbury, Netta, Latanya, Mark, Marlon, Kevin, Marcus Jr., Lanardo of Long Island, Elvis of New York, Jevon, Teron, Bernel, Daryl, Ashley, Dominick, Gevardo, Emmanuel, Ranardo, Michael, Cyrano, Keenen, Devon, Tommaniek, Yardley, Natalie, Michelle, Sharel Wilson, Cheryl, Syria, Alexandria, Billyjean, Glendisha, Samantha, Lavan, Sean, Samuel, Delerease, Carlotta, Tanya, Toya, Lateisha; numerous great grandchildren, nieces & nephews & a host of other relatives & friends including: The Bahamas International  Church of Christ family, M.R.F. Bible Move Church family, Commonwealth Masons Order of the Eastern Star St. Mary's Chapter #792,  Anthony Roberts & family, Francilla Roberts & family, Kay & Alex of Spanish Wells, Jeanie Albury, Clyde Curry, Ken Curry, the Englerston Community, Spanish Wells Community & the entire Ragged Island Community.
Friends may pay their last respects at Demeritte's Funeral Home, Market Street, from 9-6:00 p.m.on Saturday & on Sunday at the church from 10:00 a.m. until service time.