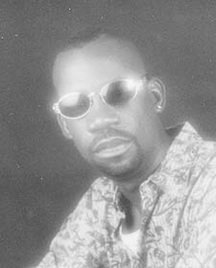 Kenrick Ashley Lightfoot
unknown - unknown
Funeral service for
Kenrick Ashley Lightfoot, 44
a resident of Irish Spring Court, will be held at Our Lady of the Holy Souls Catholic Church, Deveaux Street, on Friday, 24th October, 2014 at 11:00 a.m.  Officiating will be Fr. Alain Laverne, assisted by Deacon Maxwell Johnson.  Interment follows in Southern Cemetery, Cowpen & Spikenard Roads.
Left to cherish memories are his: Wife: Janet Lightfoot; Daughters: Kendricka Lightfoot, Dianca Peterson, Jalissa McKenize; Sisters: Genese Armbrister, Betty Williams, Rose Ingraham; Brothers: Inspector Randy (RBPF), Danny and Anthony "Outlaw" Lightfoot; Uncles: Granville and George Lightfoot; Aunts: Doreen Black, Elouise Lightfoot, Erma Pratt; Nieces: Tabatha Wilson, Thalia Charles, Gense Wilson, Venice Roberts, Veronica and Carletta Ingraham; Nephews: Jayson Armbrister, Montino Roberts, Dominique, Danny Jr., Randy, Demetrius Lightfoot, Teokin Brown, Ricardo Culmer and Omar Roberts; Sisters-in-law: Maxine, Carol and Joycaster Lightfoot; Brothers-in-law: Floyd "Daddy" Armbrister and Drexel Ingraham Sr.; Numerous relatives and friends including: Shirley Saunders and family, Mr. & Mrs. Dudley Smith Sr. and family, Salomie Gibson and family, Matthew and Dwight and family, Mr. & Mrs. Anthony Davis and family, Ms. Edna Johnson and family, Gibson family, Wilson family, Marshall family, Ms. Belle and family, Bill Newman and family, Teddy Smith and family, Hosea Saborit and family, Cecil (Iron) and family, Patrick Duncombe and family, Trinece Simmons-Francis and family, Diallio Haven, Mario Peterson and family, Shonell, Lakeva, Stacy and family, Director and Staff members of Security & Intelligence Branch of the Royal Bahamas Police Force, Plantol Street family, John Chipman Street family, Irish Spring Court family.
Friends may pay their last respects at Demeritte's Funeral Home, market Street, from 12-6:00 p.m. on Thursday & on Friday at the church from 10:00 a.m. until service time.