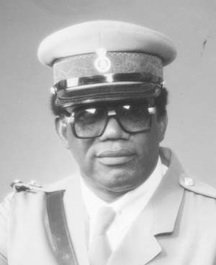 Charles "Tiger" Prince McPhee
unknown - unknown
Funeral Service for Retired Principal Officer Charles Prince "Tiger" McPhee age 79 years of Ghana Circle, Elizabeth Estates who died on Thursday, September 4th, 2014 will be held on Saturday, September 20th at 10:00am at Bethel Baptist Church, Meeting Street. Officiating will be Pastor Timothy Stewart, assisted by other Ministers of the Gospel. Cremation Will Follow.
He is survived by his loving and devoted Wife: Pertrina McPhee; Children: Pierre Jerome Brown of Orlando, Fla; Antoinette Burrows, Sonia and Nathan McPhee of Orlando, Fla; Stacy Cox of Providenciales Turks and Caicos Islands, The Reverend Dr. Missouri L. McPhee-Cuthbert of Sanford Fla; Vivica Charlestina McPhee of Jamestown, Wisconsin; Step–Daughter: Rachelle Munson; Sons- in- law: Keith Cox, Dr. Cedric E. Cuthbert, and Christopher Burrows; Daughters-in-law: Amanda Brown and Lisa McPhee; Grandchildren: Ciarra, Pierre, Emmanuel Brown , Marechen, Jade and Joshua Burrows, Daniel McPhee, Keith Jr., Kyle, Dauntez, Jacob Cuthbert III, Taylor and Kerrington Minson; Brothers: Douglas and Newell McPhee; Sisters: Colamae Barr, Vaunita Sutherland, Rowena Thompson, Viola Barry, Sheila Carroll and Cynthia Smith; Brothers-in-law: Cresswell Barr, Lealand, Alvin and Llewelyn Lightbourn, Brian Carroll, David Duncombe and Oswald Brown of Washington, USA; Sisters-in-law: Carolyn McPhee, Emerald, Lela and Angela Lightbourn; Nephews: Clarrington Jr.and Winston Sutherland, Darvin and Dwayne Duncombe, Vandyke and Joshua Barry, Brian Jr. Carroll, Prince, Newell McPhee Jr., Terry Rolle, Ron Lala, Gordon, Marvin, Jason, Greg, Dominique, Clint, T'mars and Jereel Lightbourn; Nieces: Sandra, Patricia and Denise Sutherland, Sophia Minnis, Linda Sastre, Barbara Francis, Desiree Saunders, Tawana Strachan, Alexis Stewart, Carolyn Forbes, Adell and Patricia McPhee, Athena Carroll, Sharon Rolle-Vaga of Atlanta Ga., Tangela and Tamela Rolle of Orlando Florida, Sheena Vaga of Atlanta Georgia, Melanie Rowe of California, D' Dee Alexandre of Virginia and Erica Lightbourn; Numerous Grandnieces and Grandnephews include: Phyillice Colebrooke, Detra Bastian, Janet Sutherland, Rhea, Roger Jr., Reu and Rukiya Minnis, Jaume Sastre and Gerade Barry; Godchildren: Ryan Ferguson and Brittany Whitehead of Chicago; Special friends: Chief Officer Andrew Rolle, Clement Cartwright, Inspector Eugene McKinney, Retired Asst. Superintendent Lionel Gilbert, Inspector Henry Bannister, Inspector Tommy Thompson, Retired Corporal Reubin Sears, Anne Lowe, Cynthia Nuygan, Betty Hanna, Alice Edwards, and Everett Knowles; Numerous Cousins and friends including: Gabriel Sastre, Hazel Penn of Freeport, Grand Bahama; Elizabeth & Michelle Brennen, Cecil Smith, Gabby Stevens and family, Maria Elliott & Alphonso Elliott, Clem Cartwright, Inspector Eugene McKinney, Tom Mackey, Alice and Sonia Arthur, Judy McPhee, Telsine Sands, Jackie Smith, Daphne Thoma, Gayle Knowles, Vanessa Whitney, Nita Bonamy, The Barr Family, The family of the late Merlene Rolle & The family of the late Diana Thompson, Sylvia Wilson and family, Leanne Johnson & family, Lillian Morely, Irene Davis and family, The Stevens' Family of West Palm Beach, The Sweeting Family, The family of the late Wilton Colebrook, The Bethel Baptist Church Family and Reverend T. G. Morrison, Reverend Anthony Sampson and the entire Zion East and Shirley Street, Bishop Delton Fernander and the New Destiny Baptist Church Family, The present and Retired Staff of Her Majesty's Prison, Arlene Anderson and the Babysitting Staff at the Atlantis Cove Resort, Peter Clarke, Annamae Ferguson, Margaret Small, Gia Ferguson, Pearline Johnson and the entire community of Ghana Circle Elizabeth Estates.
Viewing will be held at #41 Clarke's Funeral Home, Tonique Williams-Darling Highway on Friday, September 19th from 10:00am to 6:00pm and on Saturday from 9:00am at the church until service time.