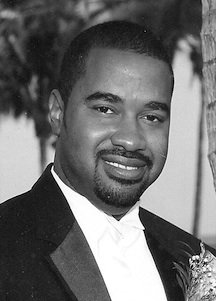 Bruno "Dax" Edward Cleon Lightbourne
unknown - unknown
Funeral Service for Bruno Edward Cleon "Dax" Lightbourne age 42 years and a resident of #5 Ferry Horse Lane, Freeport will be held on Saturday 27th, September, 2014 at 3:00 p.m. at St. Paul's Methodist Church, Beachway Drive and East Sunrise Highway. Officiating will be Rev. Theophilus N. Rolle assisted by Rev. Kenneth P. Lewis and Rev. Dr. J. Emmette Weir and interment will follow in the Grand Bahama Memorial Park II, Frobisher Drive.
Pre-deceased by his mother: Coleta Lightbourne.
Left to cherish the memories of this helpful, warm and friendly young man are his devoted wife: Melba Lightbourne; two daughters: Jaidan and Jordan; father: Bert Lightbourne; two brothers: Bert Jr. and Bradlo Lightbourne; one sister: Berlice Lightbourne-Pintard; nieces: Micaela and London; uncles: Rev. Dr. C.B., Nathan, Bert and Randy Moss, Harry and Alvin Lightbourne; aunts: Jacqueline Dorsett, Francisca Moss, Diana and Anne Moss; grandaunts: Evangelist Nelliemae Ferguson, Lady Igrid Darling and Alma Cox of Florida, USA; mother in law: Arabella Bodie; father in law: George Ellis; brothers in law: Michael Pintard, Richard and George Ellis, Thomas King; sisters in law: Racquel Lightbourne, Lavern, Tiffany and Yolanda Ellis, Karen King and Crystal Leah Bodie; cousins: Carlton, D'Angelo and Charles Moss Jr, Harold Pinder, Carolyn, Shanova, Shakesha and Gloriann Moss. Carla Moss-Fitzgerald, Crystal Kemp, Sharon Farrington, Shanda Styles and Sharah Hackette; Donavan, Marvin, Michael, Jacob Jr., Nicole and Lynette Lightbourne of Pennsylvania, Donavan Lightbourne of California, Karen Lightbourne-Peterkin, and Renae Saunders Lightbourne of Ft. Lauderdale Florida, Jeff, Terrell, Dwight and Nathan Lightbourne and Odaz Beneby; other loving family and friends including: Leonette Ferguson, Eddison and Jackie Cox, Sylvia Bevans and family, Kenneth and Lee Lightbourne, Martarsha Cartwright, Violet Patrick, Zerlane Lowe, Carlos Storr, Arthur Dorsett, Greta Meadows, Ashley Grant, Shavad Bodie, Goergette Thompson & Family, Portia & Ah'jore, Cyndi Martin, Rev. Theophilus and Evona Rolle, Rev. Emmette and Ena Weir, Smith Point Community and St. Paul's Church Family.
Relatives and friends may pay their respects at Yager Funeral Home & Crematorium, Queen's Highway on Friday from 12:00 noon until 6:00 p.m. and at the church on Saturday from 2:00 p.m. until service time.