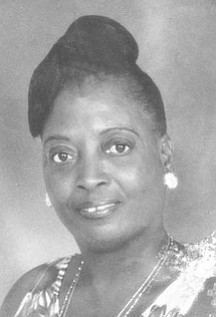 Ernestine Rodella Maxine Holbert-Haven
unknown - unknown
Funeral service for
Ernestine Rodella Maxine Holbert-Haven, 55
a resident of 6th Street the Grove & formerly of Dumfries, Cat Island,  will be held at Southland Church of God, Soldier Road West on Saturday 28th February, 2015 at 11:00 a.m.  Officiating will be Bishop Goliath Burrows, assisted by Rev. Bertha Deveaux, Rev. Alfred O. Stubbs & other Ministers of the Gospel.  Interment follows in Woodlawn Gardens, Soldier Road.
Left to cherish her memories and continue her legacy are her BROTHERS: Rev. Alfred O. Stubbs, of Freeport, Grand Bahama, and Marlon Thompson.  FOUR SONS: Prescott, Everette, Norman, and Able Seaman Marcus Haven of the Royal Bahamas Defense Force. One DAUGHTER: Shakeira Haven. TWO STEP-CHILDREN: Normanika (pronounced Norma-Neka) and Norris Haven. NINE GRANDCHILDREN: Lawaynia, Diallo, Shemar, Evante', and Evian Haven, Daria Emanni, Azaiah Knowles, Azarriah and Destiny Sturrup. TWO DAUGHTERS-IN-LAW: Jennifer Haven and Nekiah Wright-Haven. ONE SISTER-IN-LAW: Sharon Rose Stubbs, of Freeport, Grand Bahama. FIVE NEPHEWS: Ricardo, Patrick, and Anthonio Stubbs, of Freeport Grand Bahama, Alfred (Ally) Stubbs Jr. of Miami Florida, and Vincent Davis. FOUR NIECES: Patrice Laing, and Kim Roberts of Freeport, Grand Bahama, Alexia S. Stubbs, of Orlando, Florida, and Glendina Davis. TWO GRANDNIECES: Patria and Treneice Stubbs.  ELEVEN COUSINS: Immigration Officer Eleveton Bonaby, and Bishop Theophilus Bonaby, Godfrey Knowles, Abraham and Mario Butler. Lescina Rose Moxey, Miriam Hamm, Monique Babbs, Theresa Clyde, Raquel Pratt, and Shantell King. NUMEROUS OTHER RELATIVES AND FRIENDS, INCLUDING: Albert "Bim" Stubbs and Family, Pastor Christine Bonaby, Eris Moncur and family, Kadian Foster-Brown of the Bronx, New York. Rosemae Smith and Family, Irene Bannister and Family, McAllan Banister and Family, The Kings, Smiths, Bonabys, Poitiers, and Stubbs of Cat Island. The Gilberts, Norman Knowles and Family, Omar Sturrup, Bernice Whylly, Lenora McIntosh, Atanya Bain, Henry and Eulamae King, Peggy Stubbs, Henry and Nehemiah Stubbs, Rudy and Irene Storr, Oneal Ambrose and the Potters' Cay Crew, Scott Roker of Shanghai, China, Maxi, Daddy Lou, Alina, Paul, th Lucky Heart Corner Crew, the Southland Church of God family and the Windsor Lane Crew.
Friends may pay their last respects at Demeritte's Funeral Home, Market Street, from 10-6:00 p.m. on Friday & on Saturday at the church from 10:00 a.m. until service time.