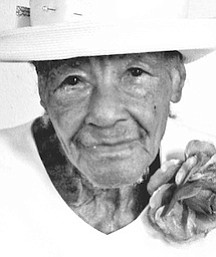 Rowena Roach-Rolle
unknown - unknown
Funeral Service for the late Rowena Roach-Rolle age 97 years of Seven Hills Estates and formerly of Steventon and Rolle Town, Exuma will be held on Saturday, February 28th, 2015 at 1:00pm at Zion South Beach Baptist Church, Zion Blvd. Officiating will be Bishop B. Wenith Davis assisted by other ministers of the gospel. Interment will follow in Woodlawn Gardens, Soldier Road.
She is predeceased by her husband: Clarence Rolle; son: Hinsley Rolle;
Precious memories will forever linger in the hearts of her sons: Wendell, Luther (Thelma) and Clarence (Carolyn) Rolle; daughters: Ena Thompson and Stephanie (Wilfred) Delancy; adopted children: Pastor H.A. (Olga) Roach and Carmen Adderley of Rolle Town, Exuma; grandchildren: Ingrid (Rodney) Saunders, Trevor (Cynthia), Craig (Terricita), Marvin, Eugene (Deborah), Troy (Kenva) and Tyrone Thompson, Roceila (Douglas) Gibson, Ricardo (Theressa), Reno (Lashanna), Rockswell, Santino (Shanna), Clarence Jr. (Hilda), Cameron and Shelleyka Rolle, Kristal and Terah Delancy; great grandchildren: Sacha, Dana and Zaria Saunders, Tavara, Tristan, Tremeah, Tracynia, Craig, Ashley, Ternisha, Carys, Geena, Geeah, Gabriella, Eugene Jr., Marva, Marshe, Malique, Marvin, Troy and Trenae Thompson, Summer and Star Seymour, Kenyon Hanna, Tiara Daniels, Deon and Danell Gibson, Tafari, Reo, Rayniah, Ron, Rihanna, Kierra, Skylar, Calyn-Rose, and Carter Rolle; great grandchild: T'Niayah Brennen; brother and sister-in-law: Aaron and Marion Rolle of Rolle Town, Exuma; nieces and nephews: Jacqueline Dean, Willis Hart, Laura Smith, Elsie Moxey, Sydney and Carlton Adderley, Osmound, Lester, Rupert, Karol, Iramon and Sean Roach, Corralie Burrows, Brenda Dames, Valarie Mullings and Sharon Ferguson; other nieces and nephews including: the children of Aaron Rolle, children of the late Moses, Oscar, Ena and Clemintina Rolle; god children: Rosemary Wildgoose, Dolly Saunders, Beverley Lightbourn and Rodney Rolle; other relatives and friends including: Elsaida Ferguson, Zillah Rolle, Leanna Rolle, Rovena Rolle, Calvin and Kenva Adderley, Alice Innis, Stephanie Culmer, Leonard Dames, children of the late Rev. Cephas Rolle, children of the late Leah Strachan, children of the late Carmetta Rolle and children of the late A. Leon Roach, Bishop B. Wenith and Isamae Davis, Zion South Beach Baptist Family especially the Prayer Band (Ministers Wade Smith and Wilfred Bastian, Keturah Ferguson and Marilyn Rolle, Dr. Eugene Gray and Family, The Gibsons, Saunders, Darling, Johnson, Kemp and Smith Families of Seven Hills, Mable Delancy and Family, Pennerman Family, Maria Saunders and Family, Indira Rolle, Thompson Family of Palmetto Point Eleuthera, the communities of Rolle Town, Hartswell, George Town and descendants of the Roach Family of Steventon Exuma, and many more too numerous to mention but we do apologise for any names we have forgotten.

Viewing will be held in the Perpetual Suite at Restview Memorial Mortuary & Crematorium Ltd, Robinson and Soldier Roads on Friday from 10:00am to 6:00pm and at the church on Saturday from 11:30am until service time.