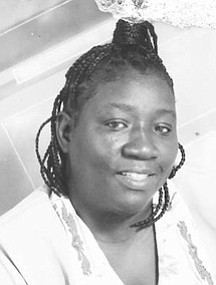 Pearline Lavenia Williams Adderley
unknown - unknown
Funeral Service for Pearline Lavenia Williams Adderley age 66 of Strachan's Terrace off Soldier Road who died at her residence January 13th, will be held on Saturday 11:00 a.m. at Christian Prayer Centre Faith Avenue. Rev. Dr. Mavis Thompson assisted by Bishop Cicely Williams and other Ministers Of The Clergy will officiate and interment will follow in the Old Trail Cemetery Old Trail Road.
Precious memories are held by:
Husband - Desmond Adderley Sr.

Sons (2)- Desmond Adderley Jr.   Clayton Adderley

Daughters (5) - Sherry Swann (of Georgia),  Ethlyn Adderley, Emmerine Louis,  Ruth Farrington, Trenia Morley

Son in laws (5)- Brian Swann, Philip Farrington, Edmond Louis, Malcolm Morley, Craig Sands.

Daughter in laws (2) - Feletta Adderley, Tenelle Culmer

Grandsons (14) - Javon Brown, Stephen Newbold, Otis Adderley, Tyrone Adderley, Philip Farrington Jr., Tyler and Orlando Strachan, Marion Thomas Jr., Demetrie Thomas, Brian Swann Jr., Brandon Swann, Ryan Swann, David Swann, Daniel Swann.

Granddaughters (13) - Shenique Williams, Ashley Adderley, Rayshornna Duncombe, Shereca & Angelina Carrice, Philippa, Tracey & Crystal Farrington, Malkeisha Morley, Whitney Strachan, Sherry Marie Reyes, Branishka Swann, Sherington Swann.

Great Grandchildren (8)- Javontay Brown, Robert, Bianca, Mark, Cedric, Sabrina and Catalina Pike, Shifana Thomas

Brothers (2)- Pastor Leon Williams, James Williams

Sisters (3)- Ivalene Brown, Evangelist Roselee Rolle, Missionary Genneth Coffie (of Waycross GA)

Brothers in law (3)- James Brown, Bishop Alfred Rolle, Elder Zipporah Coffie

Sisters in law (3)- Bishop Cicely Williams, Mavis Williams, Willimae Williams-Munnings

Nephews (12)- Leon Williams Jr., Cornelius & Melbourne Johnson, Steven & Clifford Brown, Sean, Christopher, Allister & Cedric Williams Jr., Prophet Remington Rolle, Zipporah Jr & Kristen Coffie,

Nieces (14) - Demetria Brown, Debbie Rolle, Lefrance Williams, Cathren Brown-Taylor, Norean Thomas, Charmine Dean, Curlean Knowles, Sherille Brown, Doralean Brown, Tanya Brown, Cindy and Lashanda Wiliams, Elkeia Coakley, Clarice Pratt

Numerous grandnieces and nephews including; Maria Bonaby, Franklyn Delancey, Nekitra Rolle.

Numerous dear Friends including; Maude McKinney, Howard Ingraham, Melvin Sands, Gladstone Sands, Don Culmer, Ivan, Jean Rolle, Arlene Strachan, Christine Higgs, Brenda McKinney, Angie, Trinka, Amita Thurston, Rev. Dr. Mavis Thompson and their families, the Christian Prayer Center and the communities of Strachans Subdivision, South Eleuthera and Cat Island.
Relatives and friends may pay their last respects at Newbold Brothers Funeral Home Palmetto Avenue and Acklins Street on Friday from 11:00-7:00 p.m. and at the church on Saturday from 10:00 a.m. to service time.
Funeral arrangements are being handled by COMMONWEALTH FUNERAL HOME.