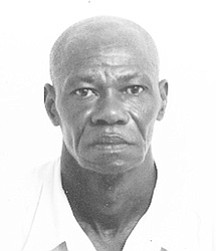 Eleris Fildor
unknown - unknown
Funeral service for
Eleris Fildor, 53
a resident of Cowpen Road & formerly of Gros Morne, Haiti, will be held at Ebenezer Baptist church, Carmichael road, on Saturday 29th November, 2015 at 2:00 p.m.  Officiating will be Pastor Papouloupe.  Interment follows in Southern Cemetery, Cowpen & Spikenard Roads.
Left to cherish his memories are his wife: Lorina Hyacinthe; sons: Alenes Fildor, Youbency Fildor, Cassimide Fildor, Amilcar Fildor, Evenerson Fildor; daughters: Ichemide Fildor, Rose-Natha Fildor, Saint-Arose Fildor, Guerveline Fildor & Benise Fildor; brother: Macsene Fildor; sisters: Vermila Fildor, Odette Fildor, Odanise Fildor & Launese Fildor; nieces & nephews: Luketia Fourssaint, Marc Sony Toussaint, Olanda Toussaint; Aledelyne Damus, Junior Destine, Nailsen Ofinite Fleurieu, Michaella Flerieur, Fredson Flerieur, Santacha Flerieur, Jean Rolmy Pierre; son-in-law: Wilnert Tiyoute; cousins: Marie-Eliana Fildor, Dede Fildor, Jonel Derilus, Jackson Derilus, Frenel Derilus, Jean Claude Jean, Alfenes Pascal, Ifontes Pascale, Charlines Devis, Noula Petit-Frere, Mondestin Timothe; other relatives: Lubert Flerieur, Pejilus Maxius, Larisner, Hyacinthe, Johname Marcelus Toussaint, Moliere, Cleophar, Nouslin, Nady, Jocelyne, Express, Iliode, Elourd, Marc-Johnny, Erigene, Italien Ronald & Resina.
Friends may pay their last respects at Demeritte's Funeral Home, Market Street, from 12-6:00 p.m. on Friday & on Saturday from 9-12:00 p.m. & at the church from 1:00 p.m. until service time.