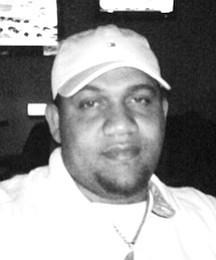 Jackson George Russell Jr
unknown - unknown
Funeral Service for the Late Jackson George Russell Jr., aged 30 years of Blue Hill Heights, will be held on Friday November 27th, 2015, 1:00 p.m. at Church of God of Prophecy East Street Tabernacle, East Street. Bishop Ghaly Swann assisted by Bishop Rudolph Bowe will officiate. Interment will follow in Lakeview Memorial Gardens & Mausoleums, John F. Kennedy Drive & Gladstone Road.
Precious memories are held by his Loving Wife: Jelissa; Daughters: Kaylisa, Jalayah; (Unborn Son): Kayson; Mother: Melverne Hepburn; Father: Jackson Russell Sr.; Step Father: Cecil Hepburn; Siblings: Jiles, Jacquelyn, Scottia, Scindy, Scott Jr., Sevin, Jave and Jicobi. Mother-in-Law: Pamela Henfield; Sister-in-Law: Tonell Valdes; Brothers-in-Law: Jeffrey Henfield Jr. and Julian Valdes; Aunts: Phiora, Andrea, Betty, JoAnne, Jackie and Shirley; Uncles: Charles Russell, Charles Bethel and family, Mikey, Trevor, Eric, Marcellous, Mark and Wilfred Bastian; Grandmother: Shirley Fox; Nieces: Kayajah, Reshae, Skyler and Tori; Nephews: Tyscin and Jaheem; Other Relatives including but not limited to: Kirklyn Rolle, Bernice Bullard, Linda, Violet, Gregory, Jonathan, Rex, Lorraine, Andrew, Godfrey, Andy, Natoya, Kimberly, Thomasina, Tanique, Derick, James Carey, Scott Miller Sr., Cecil Hepburn, Jaime and Lawrence. Special Friends: Drexel and Mae Gibson & Family, Roseline Hanna, The Poitier Family, Joyce, Renaldo, Avard, Duhiza Swaby, Tika, Leslie Newton, Tennielle, Conan and Mr. Fawkes, Other Relatives and Friends: Moniqua, Theo, Al, Brooks, Jimmy, DJ and Max, Lisa Newbold and family, Barry Wilmott and family and Pastor Genius Wells and family, Maude Demeritte and family, Ear Wilmott, Patsy Bell and family, Nancy Wilmott and family. Betty Robinson and family, especially Jamie, Johnathan and Yohan, Naomi Thurston and family; special thanks to: Dr. Barry Russell and family, and the entire Bahamas Orthodontic Center family, Beckman and Coulter Miami, Fla., and The Bahamas Faith Ministries family.
Friends may pay their last respects at Bethel Brothers Morticians, #44 Nassau Street, on Thursday from 10:00 a.m. to 6:00 p.m. and on Friday at the church from 11:30 a.m. until service time.