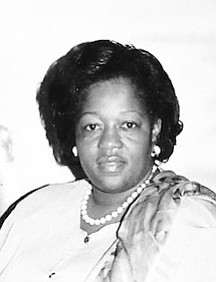 Betine Morley-Willis
unknown - unknown
Memorial Service for Betine Morley-Willis age 54 will be held on Thursday April 28, 2016 at 7:00 p.m. at Faith United Missionary Baptist Church, Faith United Way off Blue Hill Road South. Officiating will be Rev. Dr. William Thompson assisted by Other Ministers.
Funeral Service for Betine Morley- Willis age 54 of Major Road, Yellow Elder Gardens who died on April 9, 2016 will be held on Saturday April 30, 2016 at 10:00 a.m. at Faith United Missionary Baptist Church, Faith United W ay off Blue Hill Road South. Officiating will be Rev. Dr. William Thompson assisted by Rev. Frederick N. Cartwright, Pastor Patrick V. Smith and Other Ministers. Interment will follow in Woodlawn Gardens, Soldier Road.
Left to cherish her fond and precious memories are: Husband, Vincent Clive Willis, Retired Sergeant Major of Jamaica's Defense Force; one son, Vincent Rashad (Shaddy) Morley, Jr.; one daughter: Tiffany Rashae' Manace, ( Moxey Manace); three sisters, Debbie Alleyne, Winifred King & Stacey Sweeting ; two step-daughters, Stacy Ann Willis-James of Arizona, Shanice Willis of Canada; one step-son, Kevin Willis, Flight Lieutenant of Royal Air Force of England; one brother, Dencil Wells, Sr.; two aunts, Cynthia King of Mangrove Cay, Andros & Millicent Burrows of New York ; one uncle, Isaiah King of Mangrove Cay, Andros ; seven nieces, Sherron Young & Shannon Alleyne, Shanii Oliver and Elicia Hall; Anna, Arizel and Abagail Wells; one nephew, Dencil Wells, Jr.; one sisters-in-law, Yvonne & Nadine Willis of Jamaica, Carlene Willis-Davis of Detroit Michigan, Juliette Willis of Manchester, England; two brothers-in-law, Rev. Wilfred Willis & Peter Willis of Jamaica ; numerous cousins, Dianna Davis & Family, Carmi King & Family, Sybil Green & Family, Thaddeus Moxey & Family, Margarita Bannister & Family, Elizabeth Green & Family, Lorraine Green & Family, Ethel Russell & Family, Reginald Moxey & Family all of Mangrove Cay, Andros, Senator Telator Strachan, Cabinet Minister Melony Griffin & Family, Keva Johnson, Barbara Barnes, Karen, Jimmy, Pembroke Jr., Chalma, Naomi Morley, Miriam Adderley, Maria Johnson, Enith Kerr, Arthur Jr., Ruel, Daniel, Rev. Gralin, Copelyn, Jeremiah, David, James, Lincoln, Kenneth, Vincent Moxey, Viola Bodie, Janet Bullard, Diane Moxey, Liz Roker, Rosemary Rolle, Ellis Bodie-Young, Ethlyn Wildgoose of Freeport, Frances, Michael & Leonard Carroll, Fealy Demeritte Jr., Christine Taylor, Ida Roberts, Roslyn 'Rosie' Green, Rev. Dr. William & Minister Betty Thompson & The Faith United Baptist Church Family; adopted brothers & sisters, Adopted Lloyd William & Julia Thompson of Orlando, Florida and Jerrod &Anna Thompson of South Carolina, Rev. Patrick Smith & The Evangelic Assembly COGIC Church Family, The Bahamas National Gospel Mass Choir, Rev. Christopher Roberts & Family, The Bahamas Baptist Mass Youth Choir, The Gospel Music Workshop Choir of America, Bahamas Chapter (GMW), Mary Armbrister, Ramona McClain, Annabella Johnson, Jereldine Wilson, Charles & Lee Armbrister, Leeton Armbrister of USA & Bishop Asa Armbrister of Baltimore, Maryland, her Special Friends: Diane Miller, Sharon Forbes, Rochelle Oliver, Felecia Wilmott, Terry Woodside, Renee, Melanie Johnson, Ena Rolle, Rosa Walkes, Nina Culmer, Olive Thompson, The Oliver & Darville Family, Michael Kirby and the Major Road, Yellow Elder Gardens, Wellington Street and Mangrove Cay, Andros Communities and many others too numerous to mention.
Viewing will be held at Evangelistic Assembly Church of God In Christ, Blue Hill Road and Fleming Street on Friday from 10:00 a.m. to 5:00 p.m. and on Saturday at the Church from 9:00 a.m. to Service time.
Arrangements are being handled by Vaughn O. Jones Memorial Center, Mt. Royal Ave. and Talbot Street, Nassau, Bahamas.