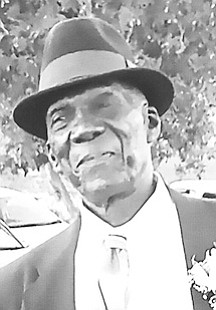 Clayton "CK" Kelly
unknown - unknown
Funeral Service for Clayton "CK" Kelly age 89 of Lower Bogue, Eleuthera will be held on Saturday, April 30th, 2016 at 1:00 pm at Charles Wesley Methodist Church, Lower Bogue, Eleuthera. Officiating will be Rev. Marie Neilly assisted by, Pastor Ednol Cash and Deacon Wade Higgs. Interment will be in Henderson View Cemetery, Lower Bogue, Eleuthera.
Left to cherish his memories are his Children: Vernell Cash, Lillian Hudson, Errol, Jacklin and Darren Kelly Sr., Alveta Bethel, Julieth Wallace, Margurie Albury, Eulamae Johnson, Rev. Helena Bethel, Orene Frazer, Whittington, Min. Randolph and Rev. Henderson Kelly, Clinton Cash, Marie Heastie, Grandchildren: Jamal, Shenique, Errolisa and Errol Cash, Tameka (Arnold) Simmons, Doyle (Heather) Hudson, Franklyn Symonette, Astarzia Kelly, Anjanico and Andreo Hillhouse, Delano Durham, Sharad Bethel, Theran & Travaughn Evans, Lathario Wallace, Kavanya, Keianna and Kevin Albury , Darnell & Darren Kelly Jr., Shulanda, Christen, Randicka, Randolph Jr., Christen, Lavase, Terell, Curry, Hendrinique, Lagrand (Shannie), Laron and Kenisha, Kelly, Laronda& Oscar Rolle, Petreann, Peterez &  Peter Heastie Jr.,Trevor, Malcolm, Charlene, Orashio, & Tamara (Byron) Johnson, Latoya & Phillip Saunders, Crystal, Raymond Bethel, Darlene Smith, Dennis Cash, Edney (Kay) Higgs, Andy, Clement (Twanya) Cash,  Braxton, Faith &Briceton Anderson Jr., Terell, Quinton &  Clinton Cash Jr., Shontae Bain, Clotaire (Angeline) Pierre, D'Andra Mills,  Siemone Simmons; Eighty-four great-grandchildren; Four great-great grandchildren; Adopted Children,  William Albury of Spanish Wells, Zane Moss, James Munroe, Sloane Smith, Felicia Evans, Felicia Saunders, Giovani (Celia) Imlach; Brothers, Bishop Dudley and Bishop Curtis Kelly of Delray Beach, Florida; Sister, Mercia Cash; Sons-in-law, Errol Cash, Samuel Bethel, Frederick Wallace, Kevin Albury, Ephrum Johnson, Anthony Bethel, Calvin Frazer and Peter Heastie, Daughters-in-law: Lana, Karen, Yvonnia and Madlyn Kelly and Sharlene Cash; Brothers-in-laws: Bishop Creswell Cash, Rev. Lester and Erskin Bain; Sisters-in-law: Ionie and Ina Kelly, Silvia Moss, Cynthia, Letha, Patrice and Barbara Bain; Numerous Nieces and Nephews including: Sidney, Wilson, Leroy, Claudina, Tredville, Merlyn, Gerald, Arnette, Shadrach, Donnie, Gail, Samuel, Jason, Travis, Urit, Randy, Ishmael, Marvin, Christine Gartfield, Margurite, Mecal. Edward, Delton Jr., Terrance, Deidre, Tyrone, Spurgeon, Colin, Patrice, Mario, Kayleen, Ryan, Elvis, Simone, Damerius, Dianne, Ruby, Sherry, Merelyn, Helen, Edward Emily, Eddie, Lavonia, Louise, Florence, Stanford, Mercia, Kendrah, Melvern, Sandra, Kenneth, Deborah, Charles, Monique, Michelle, Wellington Dorothy, Andrea, Debbie Benjamin, Keva, Sheerie, Sheena, Katie, Hilverson, Erica, Rochelle, Dennis and Nakita; Godchildren: Claretta Albury, Myrna Gaitor, Louise McDonald and Melvene Cash; Other Relatives and Friends including: Descendant of the late Wealthy Cash, Descendant of the late Earlene Albury, Descendants of the Late Cansina Bain, Descendants of the late Burlin Albury, Descendants of Pearline Johnson, Descendants of the late William Albury, Descendants of the late Myrtis Brown, Descendant of the late Richard and Solomie Kemp, Descendants of the late Richard Kelly, Descendants of the late Arthur Albury, Lucinda Deveaux, Candace Kelly, Olga Frazier, Nurse Luanne Fortune, June Carey, Mable Colebrooke, Luther Kemp, Fred Neilly, Orean Cash, Darren Pinder, Zebric Bethel (Seabreeze), Francis Carey, Andrew Hillhouse, Nadia Cartwright, Keisha Bethel, James Rolle, Luther, Andrea Ferguson, Barbara Cash, and family, Bishop Ivan Neilly and Family, Geneva Kelly and Family, Inez Kelly and Family, Alvin and Beryl Neilly and Family, Gregory Stuart and family, Burchinald Gibson and family, the Collins family in Upper Bogue, the Cambridge & Woods family, Phillip Bethel and family, Deacon Wade Higgs and family, The family of Charles Wesley, the Taxi Cab Drivers at the North Eleuthera Airport, the communities of Gregory Town, Alice Town and Governors Harbour, the Staff of the Lower Bogue Clinic and the entire community of Lower Bogue.
Viewing will be held in the Legacy Suite of Vaughn O. Jones Memorial Center, Mt. Royal Ave. and Talbot Street on Thursday from 12:00 noon to 5:00 pm and on Friday at the Church in Lower Bogue from 5:00 pm until service time on Saturday.