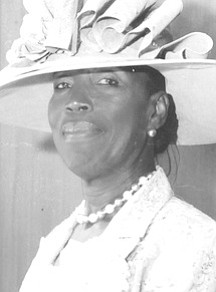 Izetta Newbold
unknown - unknown
Funeral Service for Izetta Newbold, age 78 years of Adelaide Village, will be held on Saturday December 31, 2016 at 10:00 a.m. at St. Agnes Anglican Church, Balliou Hill Road and Cockburn Street. Officiating will be Rev'd Fr. I. Ranfurly Brown. Cremation will follow.
Izetta has left an indelible print in the hearts and minds of her children: Wendy Hall, Andrew Newbold, Ronald Jr. and Sidney Cartwright and Bianca Campbell; grandchildren and spouses: Evan and Pamela Thompson, Charrah and Demiko Rolle, Shivanthi, Khania and Keewell Hall, Valentino, Colleen, Ronel, Sidneka, Keil, Kandace and Sydnei Cartwright, Terell Major, Ashnique Seymour and Erin McPhee; great-grand children: Coreyante, Erin, Elias and Elijah Thompson, Nashante and Naashon Hall, Andre Smith, Christin, Cory and Jamari Cartwright, Demiko Jr., and Denika  Rolle, Maquel Connolly, Jayden and Zayne Berry, Devaldo Greene Jr, Tiesha Williams, London Stubbs and Khayvan Deal; brother: Lester Poitier; sisters: Rosabelle Bethel, Shirley Hepburn, Diane Bruno and Patricia Simms; son and daughters-in-law: Kirk Hall, Tanya and Sandralee Cartwright and Betty Seymour; brother and sister-in-law: Ronnie Bruno and Marlene Poitier; nephews: Gene, Walter and Glen Sherman, Anthony Hepburn, Temiko and Toriano Poitier, Paul Strausse, Sabastian and Jessie Bruno, Kino Simms, Martin Symonette, Inspector Goran Bethell (R.B.P.F.), Krishna and Fritzroy Marshall, Julius Laing, Athama, Anthony and Ethric Bowe, Leading Seaman Kenneth Stubbs (R.B.D.F.), Dr. Ferriston Lockhart, Wellington Smith, Drexel Nairn, and Kerrington Wilkinson; nieces: Charlene, Karen and Jennifer Lockhart, Dr. Jacqueline Sherman-Collie, Maureen Hepburn, Alethea and Dana Poitier, Vanessa Storr-Johnson, Louise and Shari Marshall, Georgette Thompson, Nicola Bethell, Caebrena Adderley-Bowe, Faye Mark, Ingrid Bain, Leontyne Boulden and Bridgette Bethell; and a host of other relatives and friends including: James and Michael Lockhart, Katherine Cartwright, Gina Campbell-Francios, Sidney Campbell, Denise Wilmore, Cynthia Cumberbatch, Janice Rogers, Constance and Morris Demeritte, Marylee Rolle and Family, Anita Symonette and Family, Cynthia Briggs and Family, Anita Cooper and Family, Hyacinth Saunders-Burnside and Family, Debbie White and Family, Celestine Poitier, Laverne Butler, Felix Stubbs and Family, Stephen Coakley and Family, Beth Darville and Family, I.B.M. Bahamas Limited Staff and Family, The Straw Vendor Community, Rev. Fr. I. Ranfurly Brown and The St. Agnes Anglican Church Family, Fr. Andrew Toppin and The St. James Anglican Church Family, The Cat Island Community, Adelaide Clinic Staff, The Seymour, Hepburn, King, Moncur, Cartwright, Thompson, Hall, Briggs, Sherman, Lockhart, Moss, Poitier, Smith, Simmons and Strachan Families.
In Lieu of Flowers the family requests donations may be made St. James Anglican Church Building Fund, Royal Bank of Canada, J.F.K. Branch ACCOUNT NO. 2897742.
Friends may pay their last respects at Butlers' Funeral Homes and Crematorium, Ernest and York Streets, on Friday December 30, 2016 from 10:30 a.m. to 4:30 p.m. and at the church on Saturday December 31, 2016 from 9:00 a.m. until service time