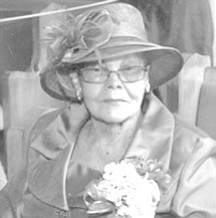 Effie Jereline Sands
unknown - unknown
Funeral Service for the Late Effie Jereline Sands, aged 87 years of #110 Lumumba Drive and formerly of Savannah Sound, Eleuthera, who died on Sunday, 14th February, 2016, will be held on Saturday, 27th February, 2016, 11:00 a.m. at Emmanuel Gospel Chapel, Emmanuel Drive, Malcolm Allotment. Pastor Joshua Sands assisted by other Ministers will officiate. Interment will follow in the Western Cemetery, Nassau Street.
She is pre-deceased by her beloved husband of 60 years: Elder Joshua Lockswood Sands Sr., her son, Michael & her daughter-in –law, Denise. Also pre-deceased by six sisters and brother: Robertha Godet, Beatrice Moss, Viola Smith, Cyril Bullard, Winifred Blair, Mae Sawyer and Oralee Mackey, her nieces and nephews: Robert Sawyer, Beryl Rolle, Cynthia Knowles, Malvina Wilson, Corrine Grant, Jane Hutchinson, Carol Moss, Aunt: Eleanor Davis, cousins: Rowena, Charles & James Culmer, Esther Davis and Grace Kemp;
She is survived by her children : Sharlene & Ishmael Lightbourne, Sheryl Sands, Pastor Joshua Sands Jr. & Lynette Sands, Jocelyn & Ben Smith, Jennifer & Kennis McKinney, 11 grandchildren: Rachel & Sheryl Sands, Kathryn & Nelson Wilkinson, Jamaal, Jasmine, Jayson and Janelle Lightbourne; Kyle and Kaison Smith, Amari and Kennis Joshua McKinney; two great grandchildren: Nelson Joshua & Camille Wilkinson; Sisters-in-law: Ruth Sands and Sylvia Sands; Nieces and nephews include: Edward & Pat Bethel, George & Rev. Patricia Bethel, Beryl & John Dillet, Madam Justice Dame Anita Allen & Algernon Allen, Stephanie & John Dean; Jerome, Nell, Edward, Vanria, Janet & Victor, June Hutchinson, Mark and Sally Moss, Iris & Richard Dean, Valeria Lockhart, Avis Outten, Ednol & Andrea Smith, Sharon Deal and Elvin Smith, Carlton & Esther Blair, Beverly Bain, Barbara Tyson, Beryl Blair, and Ivan Davis, Richa Sands; Curlene McNeil, Marion & Aaron Seymour, Ernest and Olga Culmer, Valerie Ingraham & family and Ellen Gibson; and a host relatives and friends including: caretaker: Celena Swain; The Assemblies of Brethren in the Bahamas, The Pastors and members of Emmanuel Gospel Chapel especially Pastor Emeritus Frank Knowles, Deacon Walter Evans and family Deacon Kirk Smith, Bro. Albert Smith and family; Pastor and Ministers of Lifeline Ministries, Pastor Timothy Stewart and Ministers of Bethel Baptist Church especially Rev. Arnold  Hutchinson; Staff of Queen's College, Staff of Simpson Penn Centre for Boys; Dr. Indira Grimes, Teen Scenes Camps staff, neighbors including: Icelyn Fowler and family, Leroy Archer and family, Tiny Seymour and family, and a host of other colleagues, friends and relatives too numerous to mention.
Friends may pay their last respects at Bethel Brothers Morticians, #44 Nassau Street, on Friday from 1:00 p.m. to 6:00 p.m. There will no viewing at the Church.
In lieu of flowers, donations may be sent to:
Teen Scenes Camps
RBC – Account #122-177-9