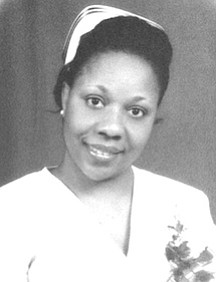 KENYA DIONDREA JOHNSON
unknown - unknown
Funeral Service for the late KENYA DIONDREA JOHNSON age 37 years of #30 Vincent Ave., Elizabeth Estates will be held on Saturday, February 27th, 2016 at 11:00 am at Kemp Road Ministries, Kemp Road. Officiating will be Rev. Emmanuel Butler Jr. Interment will follow at Woodlawn Gardens, Soldier Road.
Cherished memories will forever remain in the hearts of her Devoted CHILDREN: Jewel, Kaylyn & Kenique Johnson; MOTHER: Geletha Johnson; FATHER: Kendal Johnson (Desaree); BROTHERS: Leonardo Johnson (Shafegah), Lewayde Johnson (Andrea); SISTERS: Mrs. Ketra & Henfield (Jeffrey); NIECES & NEPHEWS: Amira-Jade, Dantre & Asher Johnson; SPECIAL FRIEND: Dominique Johnson; ADOPTED MOTHERS: Susan Kelly & Maureen McKenzie; GRAND PARENTS: Mr. & Mrs. Cecil Lloyd of Tampa, Florida; Fairlyn Smith; AUNTS & SPOUSES: Annette Lloyd, Janita Romer (Joseph), Sylvia McKenzie, Vernita Johnson, Joycelyn Johnson-Armbrister, Andree Johnson-Swales (of Anchorage, Alaska) & Nicole Johnson-Gibson (of Miami, Florida); UNCLES & SPOUSES: Rev. Dr. Willis Johnson (Pastor Yvette); William Johnson (Oralee), Cecil Jr. & Edward Lloyd, Glenville Johnson, Joseph, Jeffrey, Everett & Brister Johnson (of Freeport, Grand Bahama) & Kevin Eve; GRAND AUNT: Esther Smith; GRAND UNCLES: Jerry Smith (Sheila) & Family, Leonard Smith, Edison Johnson (of Freeport Grand Bahama); GREAT GRAND AUNT: Ethlyn Rolle & Family; COUSINS: Sheryll Armbrister (Mark), Monique Fountain (Jermaine), Geronimo Romer (Anne-Marie), Desaree & Charisma Romer; Jerimiah, Joshua, Jude, & James Johnson, Mr. & Mrs. Joel Johnson, Donte, Giovanni & Deborah Johnson, Mr. & Mrs. Warren Cartwright Jr., Anthea & Dearren Cartwright, Rodney & Rodeshia Kelly, Georgette Smith, Ebony Lloyd, Stevanette Rollins, Rodero Miller, Braython Morley, Verron Brown; EARTHLY SISTERS: Phillipa Romer, Mrs. Patrice Hanna (Ross), Cecilee Stuart, Katherine; GOD CHILDREN: Jalecia Williams, Sean Scavella, Preon & Pria Turnquest, Jasmine, Hadassah & Ariyanna Hanna, Lindsy & Syria King, Geo & Guaniancia Richie, Dillincia, Jilecio, Arlisha Davis; Other Family and Friends: Sandilands Rehabilitation Centre Family, RBPF Scientific Support Services, SAC Class of 1995 & St. Augustine's College Family, Meadows Pre-school Family, Lowes Pharmacy Family, Mrs. Thelma McKenzie & Family The Davis Family, The Simmons Family, Jennette Timberley- Thompson & Whitfield Johnson & Family, Tristen Johnson, Rev. Dr. Julia Bain and the Church of God Bernard Road Family, Evangelist Ferguson & Family, Maureen Newchurch & Family, Delarice Edgecombe & Family, Blessed Hope Native Baptist Church Family, Kingdom Life Ministries Family, Rev. Dr. Ivan S. Butler Jr. and The Kemp Road Ministries Family, Rev. Warren Anderson & the Mt. Carey Union Baptist Church Family, Gretel & Althea Lloyd & Family, Family of the Late Viola Smith, Bettyanne Rolle & Family, Deaconess Elsiemae Smith & Family, Terryann Rolle & Family, Shirley Clarke & Family, The entire Johnson & Wright Clan, Lamorn Rolle, The Del Smith Family of Exuma, the Lloyd Family of Baraterre, Exuma, The Family of the Late Hushman Johnson & the St. Vincent Avenue Family from Elizabeth Estates and many others, too numerous to mention.
Viewing will be held in the Celestial Suite at Restview Memorial Mortuary and Crematorium Ltd., Robinson and Soldier Roads on Friday from 10:00 am to 6:00pm and at the church on Saturday from 9:30am until service time.