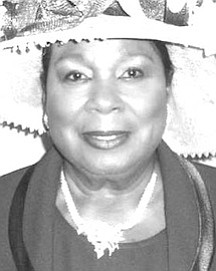 CARNETTA ELENA COOPER
unknown - unknown
Funeral Service for the late CARNETTA ELENA COOPER age 72 years of Green Turtle Cay, Abaco will be held on Saturday, January 30th, 2016 at 11:00 am St. Peter's Anglican Church, Green Turtle Cay. Officiating will be Fr. DeAngelo Bowe. Interment will follow at Green Turtle Cay Public Cemetery.
Left to cherish her memories is her loving and devoted HUSBAND: Stafford Cooper; CHILDREN: Bernadette Thompson, Karen and Sherry Hanna, Sonia (Malcolm) Leader, Pastor Deion (Anette) Gibson, Laverne Gibson and Rosemary (Henry) Newbold; STEPCHILDREN: Laura, Louise and Linda; STEPSONS: Johnwayne Johnson, Zhivargo Laing, Michael and Julian Stubbs; GRANDCHILDREN: Shaniquea, Siobhan, Shauntae, Jamie, Lacreasha and Larado Thompson, Alicia (Curtis) Bateman, Shatarah (Kamal) Cooper, Shantaya Andrews, Diazhanee, D'Ondre, Judah, Jabez Gibson, Vernae Porter, Gina Raymonville and Kyle Johnson; GREAT GRANDCHILDREN: Tranae, Travon, Traeshawn, Garinae, Peter Jr., Shaniquea, Kayden, Keithan, Hugusto, Curtis Jr., Kamille, Larado Jr. and Landon; BROTHERS: Wilmore (Coral) Lewis, Wilbert (Ida) Lewis and Nalfred Lewis; SISTER: Alrina (Lawrence) McKinney; SISTER-IN-LAW: Carnetta Bootle; UNCLES: Rev. Joseph, Bishop Esrum, Rev. Alphonso, Rev. John Lewis and Elias Rolle. Aunts: Brenetta Evans, Evangelist Suzanna Russell, Triphena, Doris, Loretta and Clara Lewis; Numerous Nieces and Nephews including: Urandel (Nadine) and Prince (Debbie) Lewis, Gaynelle (Junior) Robinson, Marva (Denzel) Barr, Arlington Lewis, Oswald Evans, Lorenzo Bethel, Wenzel and Elvera McQueen, Lothan Woodside Jr., Daphne (Mark) Fernandes, Sarahanne McKinney, Marsha (Renaldi) Forbes, Natasha (Godfrey) Stuart, Sean (Kimberly) Moss, Jason Moss, Desiree Rolle, Deborah (Terrance) Paul, 1717 Corporal Portia Bain, Derick, Floyd and Monique Lewis, Keva (Larry) Beckman, Apostle Shantel (Natheniel) Ferguson, Don Lewis, Carla (Andy) Fowler, Allison (Carlos) Wallace, Kimberly, Arnette, Wayde and Shayne (Nadia) Lewis, Dedrie (Anthony) Hamilton, Toni Styles, Fabian (Ann Marie), Samantha Porter, Vivia, Ricardo and Jonathan McQueen, Verona, Verneka, Verlinda, Veronica, Vincent Cooper, Vernal Cooper and Victor Cooper; Host of other Relatives and Friends including: The Leader Family, The Theoc Family, The Knowles family, Zerlean Campbell and family, Wilimae Russell and family, Rev. Garneth Campbell, Dr. Munir and Olga Rashad and family, Angela Campbell and family, Joe, Rettamae and Mary Lewis and family, Dr. Nigel and Lorna Lewis and family, Marcel Forbes, Hazel Cooper, Helena Clarke, Nurse Ruth Bastian, Lloyd Bethel, Maxine Campbell-Peet and family, Jessica and Shelton Barr and family, Ivan Campbell, Rev. Neville Campbell, Stancil Campbell, Austin Campbell, Brenton Rolle, Zelma Saunders, Betty Nixon, Scoopy Rolle, William Russell, The Johnson Family, The Laing Family, The Williams Family, The Stubbs Family, Lizna Culmer and family, Edith Morgan and family, Ms. Fanny, Sherry and Emory, Robertha and Samuel Russell, Dr. Charatie, Dr. Rivers, Dr. Ohueyi, The medical team of Green Turtle Cay, Father Deangelo Bowe and members of St. Peter's Anglican Church – Green Turtle Cay, First Assembly of God – Marsh Harbour, Abaco, New Plymouth Gospel Chapel – Green Turtle Cay, Rev. Dr. Patrick Paul, General Superintendent of the Assemblies of God Bahamas/Turks and Caicos, Bishop Sobig Kemp of Freedom Ministries Intl, Rev. Dr. Jonathan Carey of Glad Tidings Assembly of God, Key West; Pastor Lockhart and Calvary Temple Family, The Staff of Abaco Yacht Service, Casio, Green Turtle Ferry Employees, Gene Lowe and the entire community of Green Turtle Cay; Lowe Sound, Andros, and Freeport, Grand Bahama.
Viewing will be held at St. Peter's Anglican Church, Green Turtle Cay, Abaco on Friday from 4:00 pm to 6:00pm and on Saturday from 9:30am until service time.