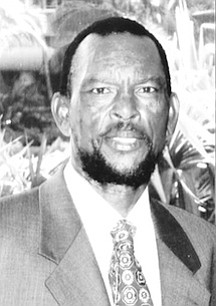 Elvis Presley Davis
unknown - unknown
Last Rites for Elvis Presley Davis, age 56 years of Palm Tree Avenue, Coconut Grove, will be held on Saturday 30th July, 2016 at Zion Baptist Church, East and Shirley Street at 10:00am. Officiating will be Rev. T. G. Morrison, Assisted by Sis Clothie Lockhart and Other Ministers of the Gospel. Interment will follow in Woodlawn Gardens.
He is survived by his Wife: Rochelle Davis, 3 Daughters: Neketria Brown, Monique Dulcio and Epiphany Davis, 3 Sons: Johnathan, Martin Davis and Elmore Archer, 3 Sisters: Ena Rolle, Mary and Vernie Davis, 4 Brothers: Godfrey, Hezron, Morrison and Anthony Davis, 2 Brother-in-law: Basil Rolle and Christopher Curtis, Mother in Law: Cynthia Smith, 3 Sisters in-Law: Rose Davis, Ella Davis and Dr. Diana Bannister, 2 Sons-in-Law: Dino Brown and Eric Dulcio, 6 Grandchildren: Dinero and Dinae Brown, Unique Blake, Keniel Williams, Keniah Francis, and Jasmine Davis, 20 Nieces: Anishka Grant, Beryl Armbrister, Ruth Mackey, Minister Patrice Rolle, Wendy, Desarie and Angela Rolle, Delphine Fernander, Shakara Clarke, Lytania Mcintosh, Garnell, Vanria, Antonya, Roshanda, Shantell, Neffetira, Doramae, Cyprianna, and Sandra Davis. 19 Nephews: Inspt. 378 Maycock, Segt. 1903 Garvin Rolle, Raymond Hepburn Jr., Adrian Bowe, Mark Stubbs, Michael Mackey, Police Corporal 2466 Andy Mackey, Dwayne Mackey, Darren, Renaldo, Errol, Tamar, Marley, Brandon, Jeremy, Sean, Bryan, Hezron, Anthony, 18 Cousins: Mavis Kerr, Lorene Banks, Edna Ferguson, Euleen Green, Patricia and Joyce Smith, Valderine Winters, Deidra, Alice, Pleasant, Vernae, and Sherry Bowe. Patrick, Perry and Leslie Smith, Joseph and Dwayne Bowe. 80 Grand Nieces and Nephews. And a host of other relatives and friends including Brett "the B Man" Archer and family, Norma Whylly, The Braynen Family, The Knowles Family, Maude Bethel and family, The Percentie family, The Curtis Family, The Kemp family, the Lloyd family, Harry Roach and Family, Yvette Rolle and Raquel Maycock, Philip Lloyd and Family, Carlos, Darwin and Lawson, Ben Davis, Joseph Rolle, Robert "Sandy Sands" Sidney Collie, Marcia and Renwick Rolle, Guard Strachan, Nigel Rolle, Fuzzy, Sammy, Shane Lewis, Cyril Swain, Godfrey Cox, Paul Wells, Dennis Johnson, Bursil Johnson, Cynthia Smith and family, Craig Henderson and family, Greg Stuart, Apollo Bowe, The Nixon Family, The Higgs and Cash family of Harbour Island, The Jet Ski & Boat operators of Super Club Breezers, Hair Braiders Association, Palm Tree Supermarket, Yahiya and family, Fifth Street, The Grove Community, The Ridgeland Park West family, Flamingo Gardens family, Staff of Dolphin Cay, Atlantis, The entire Steventon and Exuma community, St Matthews Union Baptist Church. Rev. T.G. Morrison and Zion Union Baptist Church and Pastor Joseph Knowles and so many others too many to mentioned.
The body will repose at CURTIS MEMORIAL MORTUARY on Friday from 10:00am to 5:00pm and on Saturday at the church from 9:00am until service time.